9PM Doors ✖ Hall ✖ $10 ADV / $12 DOS ✖ 21+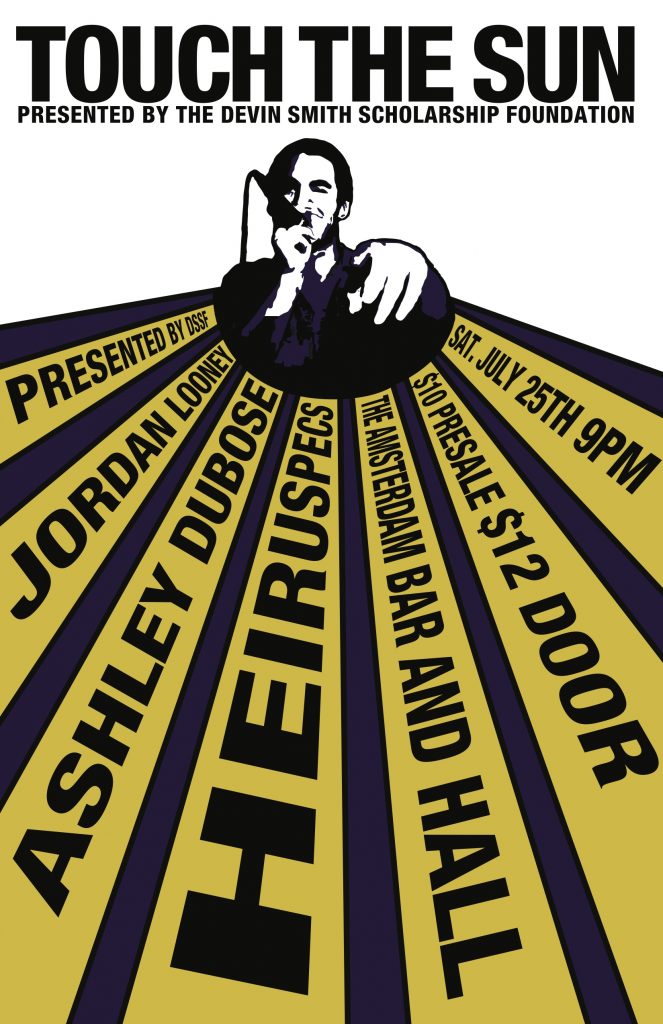 The Devin Smith Scholarship Foundation will award college scholarships to students from St. Paul Central High School because it is a place that embraces diversity, fosters academic excellence, and ultimately cultivates creativity. It is this environment, and the community that supports it, that allows students like Devin to pursue their passions. Devin always believed that creativity is limitless, and that idea is at the core of our foundation. It is for this reason that we will support students who embrace their creative passions in whatever forms they may take.
As decreed by the Mayor of St. Paul, Christopher B. Coleman, Saturday December 22, 2007 was officially Heiruspecs Day. Heiruspecs celebrated by playing two sold out Ten Year Anniversary shows in St. Paul and releasing a limited edition full length disc with out of print or unreleased songs and five brand new songs, titled "Ten Years Strong". After the merch got counted and the openers got paid Heiruspecs, and a group of their close friends, walked the half block back to their rehearsal space, shared a couple high fives, drank champagne and celebrated ten years of Heiruspecs. Upon finishing his second glass of champagne the mayor of St. Paul leaned over to Heiruspecs and handed them a biography of Heiruspecs and a briefcase brimming with pardons for unpaid parking tickets. It goes like this:
Heiruspecs started in 1997 at St. Paul Central High School. The founding emcee of the group, Felix, had been honing his freestyle skills in turntable based settings when he found an unlikely partner in the form of aspiring bassist, Sean 'Twinkie Jiggles" McPherson. The duo improvised music with a rotating cast of emcees and other musicians four days a week in Central's recording program and cheated on theory tests every Friday. After a year of great freestyle sessions and mediocre grades the nascent group put together a full band and started booking shows and writing songs. Heiruspecs was welcomed into the thriving Twin Cities hip-hop scene and were performing in night- clubs long before they were drinking in them. Heiruspecs released the tape "Live From the Studio" to high-school-esque acclaim. Their status as successful high school musicians making no money cemented their faith in not going to college and seeing how the rap life style would work out. It worked out pretty well, as it turned out. Heiruspecs hit the road in 2002 with the second pressing of a thousand copies of their new record, "Small Steps", in the back of the trailer hooked to mom's minivan. The record got Heiruspecs some good national press and people were coming to shows around the country. Heiruspecs also became the solution to the sick, drunk, late, broken equipment-having or otherwise occupied DJ. The band played as a backup band for many of underground hip-hop's up and comers including Atmosphere, Aesop Rock, Sage Francis and The Typical Cats. The group is featured on Atmosphere's Live album "Sad Clown Bad Dub 3" and the Typical Cats/Oddjobs record "Live at Bryant-Lake Bowl".
As Heiruspecs continued to tour they solidified their lineup. Felix on vocals, Muad'dib on vocals and beatbox, dVRG on keyboards, Sean 'Twinkie Jiggles' McPherson on bass and Peter Leggett on drums. Recently, Heiruspecs has also welcomed back their on again/off again guitar player, Josh Peterson, into the permanent "on again" position. Heiruspecs caught the attention of Razor and Tie records and in September of 2004 they released A Tiger Dancing. The record brought Heiruspecs national press and tours opening for Cake, Lyrics Born, Tre Hardson (Pharcyde) and Ja Rule. Yes, Ja Rule. Heiruspecs put 130,000 miles on the E-350 before they flipped their van over outside
of icy Fargo, North Dakota. The band walked away from the accident and took a much-needed break from selling t-shirts and losing guitar stands. Heiruspecs retreated to the frozen Minnesota tundra to get involved in side- projects, paying rent, college, cooking, traveling and weekend touring. The time off from full-time touring helped Heiruspecs expand their musical and personal horizons and aided in them not killing each other.
Move forward to 2009 and Heiruspecs has released the best record of their career. The self-titled, self-released record came out on December 12, 2008 and the band celebrated with a sold-out show at the legendary First Avenue Nightclub in Minneapolis. Heiruspecs is sporadically touring the Midwest in support of their most recent record. Since the release the album's music has been featured on VH1, MTV, ESPN and much more. The group also recently held their second annual Heiruspecs Scholarship Concert where they award scholarships to promising students from Central High School who are pursuing further education in the arts.
Gaining attention in the Twin Cities and within the music blogosphere, St. Paul, Minnesota soul/R&B singer Ashley DuBose's newly-found success is both appreciated and unexpected on her end. While achieving mainstream superstardom isn't at the top if her list, spreading music with a message is.
Inspired by seeing artists on television, DuBose began seriously writing and performing music in high school. A recent college mathematics graduate, she's turned to music to educate hopefuls on pursuing their dreams. Following a stellar performance, Soultrain.com sat down with DuBose at Minneapolis' historic Capri Theater to learn more about her debut album Somethin' More, her true relation to the soul genre, and why connecting with listeners through her music is most important.
7/25/15