7PM doors ✖ Hall ✖ $10 ADV/ $15 DOS/ $50 Table for 2/ $100 Table for 4 ✖ 18+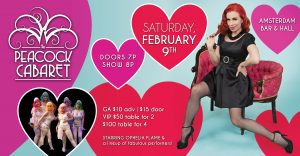 Burlesque! Drag! Variety!
We're ready to tickle your fancy at The Peacock Cabaret, a glamorous & hilarious burlesque show featuring seasoned performers & fresh talents! Don't miss our special VALENTINE'S DAY edition featuring Scarlette Revolver, Tre da' Marc, Petty Treason, Lulu Lecoo, L'Assy Rabid, Nadi A'marena, Jac Pau, Nicollette Moll, Maranda Wright, Bettie Beware, Honey B'Have, The Birds of Paradise. Staring The Playful Peacock Academy's Headmistress, Ophelia Flame!