7PM ✖ Hall ✖$20 adv/ $25 dos ✖ 18+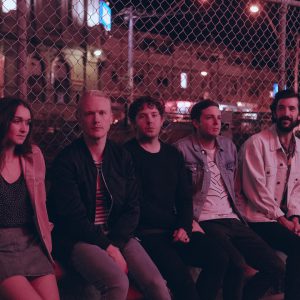 Sam Bentley, frontman for The Paper Kites spoke of the moment the album's concept clicked together. "It's a collection of stories about these characters all living in an apartment building; I wanted to capture moments, feelings, it's about people and their stories," he says of On the Corner Where You Live (out September 21 via Nettwerk Records), the Australian band's melancholic, mid-tempo companion to the recently released album, On the Train Ride Home.
Give them your tired, your lonely, your lovesick, your unsure, The Paper Kites have a song for each of them. "I created a world based on the idea of watching other people, but a lot of the songs are extensions of myself or people I know," he says.
Such artistic insight has earned The Paper Kites (which also includes vocalist Christina Lacy, guitarist Dave Powys, drummer Josh Bentley and bassist Sam Rasmussen) a loyal, organic fan base. In the eight years since they formed, what's followed is an impressive reach of their music, with steady international touring, nearly 47 million combined YouTube views and over 260 million streams on Spotify.
On the Corner Where You Live wafts evocatively with noir-ish saxophones, guitars, ambient traffic, even the languid sound of rain. Its levitating and bittersweet, heavy-hearted stories that are resoundingly universal.
Expanding on the group's acclaimed second full length, 2015's twelvefour, Sam says "I'm still very much drawn to the late nights and the sound of them: rich, honest, compassionate music." The group originally planned to release On the Corner Where You Live and On the Train Ride Home as a double album, but decided to split them up due to the difference between the tracks – "We had these earnest, minimal, almost acoustic songs and these bigger songs you hear in On the Corner Where You Live. Like two sides of a coin, it's the same feeling, just different expressions of them".
The Paper Kites co-produced On the Corner Where You Live with Grammy-winner Peter Katis at his studio in Connecticut – a 120 year old victorian era home that the band lived and recorded in for 5 weeks.
On the Corner Where You Live's opening instrumental "A Gathering on 57th" bridges the gap between the two records, the first thing you hear is the sound of the train running along the tracks and a street busker wailing into the night. The albums' concept came to Sam while on tour – "It came from watching people really, being in unfamiliar cities, observing other people's lives. I remember the band was staying in a hotel on 57th street in Manhattan and we'd come home from wherever we'd been. Our hotel window in New York City looked straight into the apartment building across the street. You could see all these windows lighting up and people getting home from their nights out. We just sat there and watched them. It was fascinating. It was living art."
"Give Me Your Fire, Give Me Your Rain" takes over from where On The Train Ride Home left off. Josh Bentley's punching drums making a statement that the record is a slightly different affair from the quiet solitude of the previous offering. A lush sonic tidal wave of midnight melancholy sets the tone of longing, loss and hope echoed through everything that follows.
The band recorded the Manhattan street noise from the window of their 57th street hotel, adding it to the lilting meditation "Midtown Waitress," Sam tells the story of being alone in London bar years ago, where an elderly woman who turned out to be a pianist for the ballet scribbled down a melody on a piece of paper, gifting it to him, naming it "The Encounter." During the recording session, Sam dug out that piece of paper, transforming it into a woozy, sax-based coda to "Midtown Waitress."
"Music is so much more purposeful and devastating when it makes you feel exposed," says Sam. Take "Deep Burn Blue," a song about a girl who won't leave her room. "It's that feeling of being so inside your own thoughts that it's debilitating." (If that weren't gutting enough, the song even references Nick Drake with the line, "You like the sound of a pink moon cry/Lying on the floor as the day goes by.") Its foil is "When It Hurts You," a harmonic lament about a man, locked-out of his apartment, making phone calls and yelling apologies from the street below. Says Sam; "You're hoping the next morning things will smooth over, but you know it probably won't."
Sam wrote 30 songs across three months. "It certainly consumed me. I was exhausted by the end of it," he says, "I didn't stop writing until Christina told me I had to stop."
Christina Lacy takes lead vocals on "Mess We Made", her first lead song since the band's debut album. Sam says "I remember we had planned to have her singing lead vocals on the last record (twelvefour) – but our producer at the time felt it sounded as if she was just singing my songs and wasn't making them her own – so we decided that if she was singing on a record it had to be songs that she'd written and had an emotional connection to, and she did just that."
Authenticity is important to Sam, who penned many of the lyrics for both albums while on the road,  composing both albums in Melbourne. Amongst his many influences – film played a part. "I had films playing on the wall of my studio: 'Lost In Translation,' 'Rear Window,' 'Lost Highway'," he explains. In that vein, he wrote the piano-based track "Does It Ever Cross Your Mind" while working at a cinema.
Immersed in an aural diet of blues and jazz, "I was also listening to these '50s mood albums like Jackie Gleason's 'Music to Make You Misty' and Frank Sinatra's 'In The Wee Small Hours.' I wanted to do a tribute to a mood album." In a similar style to the covers of such albums, the artwork was painted by Los Angeles American Noir artist Gina Higgins, who also painted the cover for On The Train Ride Home and worked closely with the band on the concept.
While The Paper Kite's songs explore longing and compulsions, Sam's own obsession lies in breaking elusive sound-emotion barriers. "It's a delicate responsibility to try and be sincere, but I think if there's never a lack of feeling, it's earnest to say the least".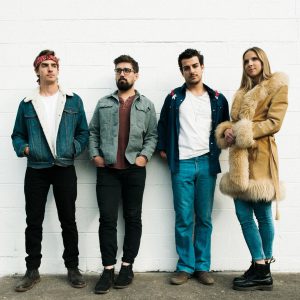 Wild Rivers immerse their folk-pop originals into the warm musical styles of the artists that influenced them. With over 20 million streams on Spotify, the four-piece band effortlessly blends exquisite harmonies, beautiful songwriting, and a captivating stage presence, while their vibe fits equally well in listening rooms and symphony halls.