9PM ✖ Bar ✖Free ✖ 21+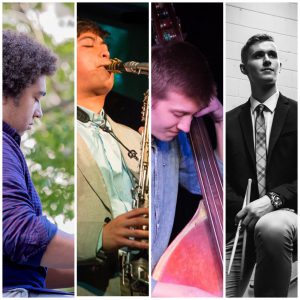 The Witch Craft Quartet provides a tasteful, refreshing, and yet experimental blend of historical jazz genres with contemporary influences. What started as a collective to study, perform, and enjoy personal favorite jazz influences quickly evolved into a diverse quartet. The quartet draws colors from all varieties and eras of jazz, funk, rock, and more.
On bass is Tyler Wagner. He pursues jazz studies at Berklee in Boston, Massachusetts. Jordan Anderson on piano studies at the Michigan school of music l where he seeks a performance degree. Peter Goggin is a locally renown alto saxophone musician and also pursues jazz studies at the Michigan school of music. On drum set and a new resident of the area, Hunter Delikowski travels the greater Wisconsin area performing in a wide variety of genres and groups. All members of the quartet compose, arrange, and perform regularly around the Twin Cities region. Together, the quartet enjoys creating a colorfully communicative sound to further push boundaries.