8PM Doors ✖ Hall ✖ $12 ADV/$15 DOOR ✖ 21+
Purchase your tickets in advance!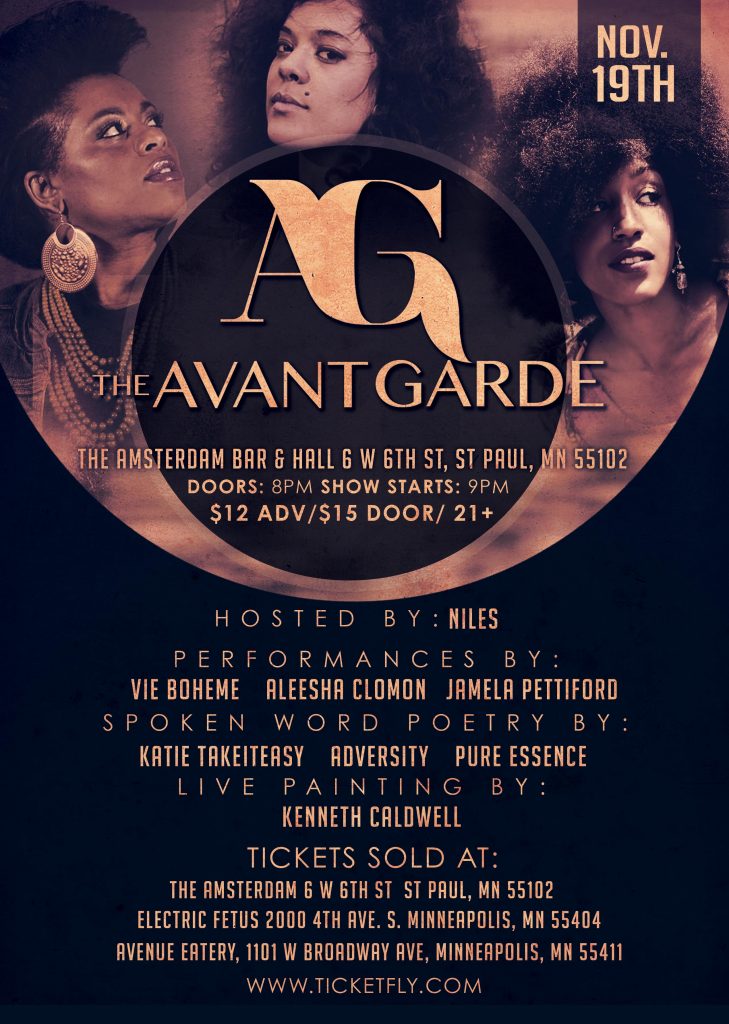 The Avant Garde
Jamela Pettiford, Aleesha Clomon, Vie Boheme, Katie Takeiteasy, Adversity, Pure Essence
Jamela Pettiford
Jamela Pettiford, was born to sing. Music flows in the blood of this descendant of the late Oscar and Ira Pettiford, the famous jazz musicians. Jamela began singing in church at the early age of 4. She sang for schools, entertained at holiday functions, and sang with a number of youth choirs. Jamela Pettiford has sung with the Big John Dickerson Band for the past six years. Along with the Band, she was the recipient of the 2005 Minnesota Blues Hall of Fame. Her usic is a fusion of different genres deeply rooted in soul. She is currently working on her debut CD.
Aleesha Clomon
Soulful and sultry, singer and vocalist Aleesha Clomon is a rising star on the Twin Cities music scene. Discovering her voice at the tender age of five in her church choir, she further honed her skills with the encouragement of her father and the instruction of the High School for Recording Arts and The Perpich Center for Arts Education. Now, Aleesha has already worked with some of the top musicians in the Twin Cities including Ray Covington, Dan Kusz, Mario Dawson, Art Haynes, and Kathleen Johnson as well as being a first-call studio vocalist for other local artists. She has performed the national anthem at the state capitol and her original material at the Executive Leadership Council's national conference in Washington, DC. Nationally she has worked with Les McCann, Delfeayo Marsalis, and John Legend
Vie Boheme
What do you become when you are born in Motown, raised in Pittsburgh and come of age in Minneapolis? Vie Boheme-The perfect blend of Minneapolis and Motown sound. Vie describers her sound as a fusion of fusions -live instrumentation/real instruments to create an eclectic sound with elements of soul and electronica. Melodies and lyrics play a central part of Vie's sound, "…there are so many things we experience every single day that make us the meat of our lives. I want to encourage people to value those experiences by writing about them." Vie's debut single EXIT is produced by Ben Obi and Timothy A. Levy. Ben Obi is a seasoned internationally accredited music producer who scored two #1 hits on the UK Soul Charts in 2014.
11/19/15