7:30PM Doors ✖ Hall ✖ $10 ADV/$15 DOS ✖ 18+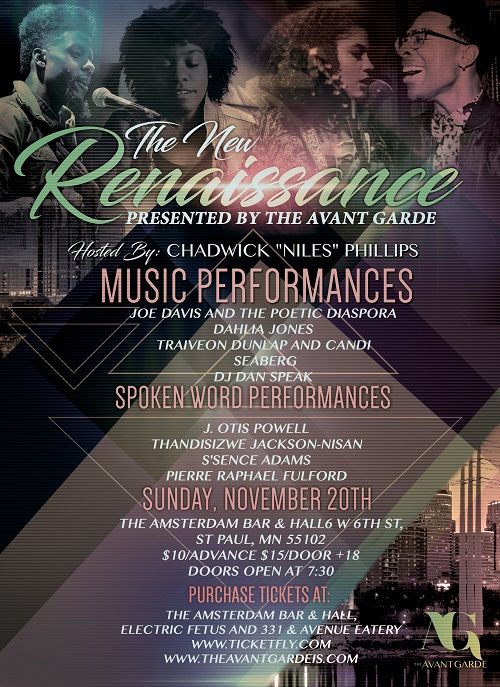 This is an event that will showcase 4 great soul artists with their own live bands and 4 incredible spokenword poets! These artists are amongst the next generation of a rising Twin Cities music and spoken word scene that is very special. It will also highlight the fast emerging brand new group: Joe Davis and The Poetic Diaspora (It's Joe's birthday that night as well)! The word renaissance means a renewal of life, vigor, interest, a rebirth, a revival of a certain artform. It is a new renaissance in the city and The Avant Gardeis honored to shed light on it!
We do this as a homage to artists of the Harlem Renaissance from Billie Holiday to Langston Hughes and all of the greats who sacrificed so much for us. The New Renaissance is showing our appreciation to the ones who paved the way as we create a new avenue of virtue for the next generations of artists that come after us. It's going to be an incredible evening of deep rooted soul and passionate spoken word poetry. Hope to see you there!
Music Performed By:
Joe Davis and The Poetic Diaspora www.joedavispoetry.com
Dahlia Jones
Traiveon Dunlap and Candi
Taylor Seaberg
Spoken Word Poetry By:
S'sence Adams
Pierre Raphael Fulford
Thandisizwe Jackson-Nisan
J. Ottis Powell