7PM ✖ Hall ✖ $8 adv/ $12 dos ✖ 18+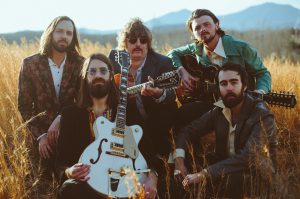 The Artisanals are a Charleston, SC based band that coalesced in late 2016. Fronted by the Charleston City Paper's 2015 Singer-Songwriter of the Year, Johnny Delaware (formerly of SUSTO) and an all-star cast of local musicians, the Americana rock outfit has already shared the stage with global powerhouse Band of Horses on several U.S. dates. Having also played with Americana mainstays Nikki Lane, J. Roddy Walston, Daniel Romano, and Dylan LeBlanc, the band is set to break out in 2018 and has been featured in the Huffington Post, Paste Magazine, Daytrotter, PopMatters, & more.
Produced by The Artisanals with Wolfgang Zimmerman, the forthcoming LP Literally, Anywhere is the first ever record to come out of the Magic Barn–a studio-converted barn in Iowa that was built around the Neve console and gear from New York City's now-defunct Magic Shop Studio. Open from 1988 until March of 2016, the Magic Shop was a sought-after studio beloved by countless legends like Lou Reed and Blondie, for its vintage gear. Arcade Fire tracked The Suburbs there, and David Bowie recorded his last two albums, including Blackstar, at the Soho spot.
With sonic influences ranging from the dream-pop work of George Harrison ("Angel 42") to the stone-cold radio hits of bands like the Killers ("Roll With It"), the nine-track LP showcases Delaware and Houle's knack for writing hooks as well as their ear for quality production. The album utilizes everything from a gong, organ, piano, sitar, French horn, trombone, and koto, to a string section sourced from the nearby University ofIowa. There's no filler here; from start to finish, this record is a straight banger.
Also worthy of note, the Artisanals recorded some songs at 432 Hz–the frequency of the universe. Delaware isn't superstitious, but he's aware of the ethereal bond between human beings and the cosmos that surrounds us. "You have to be awake in this life," he says, "There's a lot of subtle clues–if you're awake, you can read into them and know where to go." It's this perceptive attention to detail that makes Literally, Anywhere stand out.
A native of South Dakota, Delaware's formative years took him all over the United States, and he remains something of a nomad today. In college, he found himself skipping classes to write and record music, and eventually dropped out to pursue music full-time. Nashville was the first stop on this journey–as it is for so many others–but after only a month in the Music City, he was disillusioned with the dog-eat-dog industry-types and relocated to Albuquerque, NM. Living in a trailer house, he would eventually set his sights on Austin, TX, another legendary music town, where he met Luke Mitchell (The High Divers) from Charleston. The two hit it off and Delaware felt a calling to join the budding music scene in the coastal Carolina town. The transition wasn't easy, as he was living paycheck-to-paycheck in Austin and had no money to finance another move. Ultimately, divine intervention struck when a thunderstorm came through Austin–a tree fell on his car, and he was able to file an insurance claim and use the lump sum to move to Charleston. He recalls it was "the only tree that fell down in the whole goddamn city."
Years later, having enlisted guitarist Clay Houle, drummer Josh Hoover (who studied drum performance at Indiana University), and a slew of other Charleston music luminaries, the Artisanals are poised to reach the Americana masses with their debut LP. Literally, Anywhere is the culmination of the collective's years of unique individual experiences writing, recording, touring, and living life one day at a time. "Inspiration is like an invisible ghost…it's your friend, and it kind of takes you over. You're a conduit for it…that's what musicians are; these modern-day shamans that take inspiration and give it form through song. It's a lot like magick."
Focused on writing new material and hitting the road hard, rest assured the Artisanals are going to continue to "Pound the Rock" in 2018 and beyond. Go forth, friends.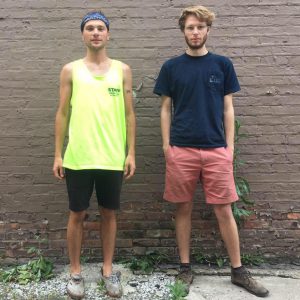 Riley and Howe are an original rock duo playing a unique blend of punk, pop, and experimental sound, with an emphasis on our live energy. Originally from Chicago, we now call Minneapolis home and are pumped to be part of the blossoming music scene here.