8PM Doors ✖ Hall ✖ $25 ✖ 21+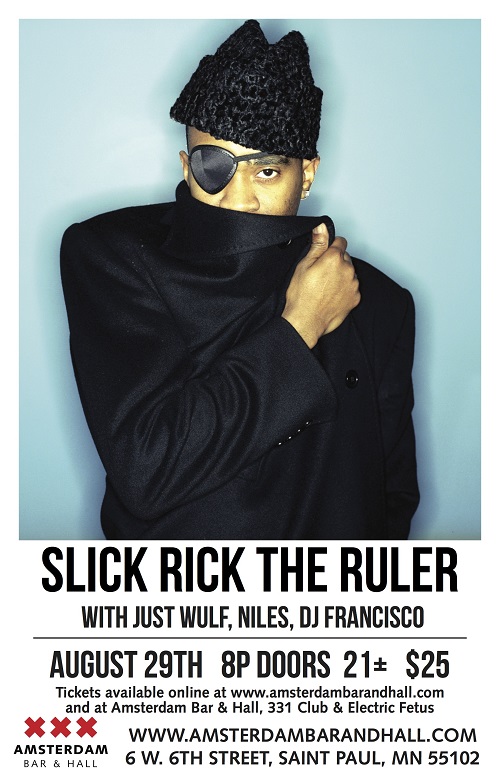 The legend returns to Amsterdam Bar and Hall on August 29th!
with Just Wulf, Niles, DJ Francisco!
Ricky Martin Lloyd Walters, better known to the world as "Slick Rick", is a Grammy-nominated, English-born performer and the most successful British-American rapper in music history who is known as Hip-Hop's Greatest Storyteller. Originally from London, the hip-hop veteran began his career in 1983 as a member of Doug E. Fresh's Get Fresh Crew, pioneering what is referred to as the "Golden Age of Hip- Hop". With four albums to his credit – the landmark The Great Adventures of Slick Rick (1988), The Ruler's Back (1991), Behind Bars (1994) and The Art of Storytelling (1999). Rick has collaborated with a range of musical icons, from Jay-Z and Missy Elliot to Outkast, Jermaine Dupri, Mos Def Common, R. Kelly and Aaliyah. His music has been sampled and interpolated over 650 times, by such artists as Eminem, Mariah Carey, Beyonce, Beastie Boys, TLC, Nas, Miley Cyrus, Kanye West, Black Star, The Notorious B.I.G., Snoop Dogg and Color Me Badd. In the process, he became the most sampled (0ver 600 times) hip-hop artist ever. Many of the new songs became hit singles, underscoring his timeless influence. Ever the influence, he has been referenced in over 60 songs from the early 1990's to present day by recording artists such as Nicki Minaj, J Cole, Pitbull, will.i.am, Amy Winehouse, Big Sean and Future. Slick Rick has also acted and cameo'd in 10 movies and videos.
Music isn't his only passion; on top of being a uniquely gifted lyricist, Rick is an actor and music producer known his fashion sense and for a growing list of business and philanthropic endeavors. The artist is known for his infamous eye-patch and heavily adorned jewelry. This self-expression through personal style has become his signature and has never been successfully duplicated. Recognizing the need for positive influences, he has devoted his time to mentoring youth on the dangers of violence. Additionally, Rick has partnered with various organizations to raise awareness and funds for the issues impacting underserved communities.