6:30PM Doors ✖ Hall ✖ $16 ADV / $18 DOS ✖ AA

630pm doors
7pm Mansionair
8pm Mikky Ekko
9pm NoMBe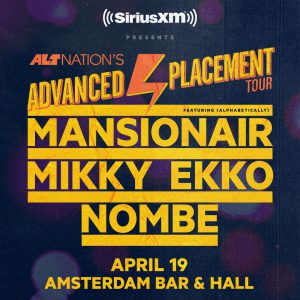 Sydney-based trio Mansionair made their debut with breakout hit 'Hold Me Down' which made radio waves from the clubs of Australia, over to Paris and across the ocean to Brooklyn. It all began in 2014 when singer Jack Froggatt, who had been playing the local music scene, accepted an invitation to top-line a suite of production beats by producer/guitarist Lachlan Bostock and drummer/producer Alex Nicholls. "Hold Me Down," a mélange of ethereal falsetto and ambient-synth-pop, hit one million views in just two months, brought together the individual talents of each musician and solidified the formation of the three-piece band now known as Mansionair.
Soon after, the band signed to Glassnote Records and were handpicked by genre-bending trio CHVRCHES to open on their headline tour across the USA, UK, and Europe. Mansionair went on to join Alt-J and Florence & The Machine on the road, most recently wrapping up a tour with London Grammar.
At the tail end of 2016, Mansionair released bristling track 'Easier,' which has now reached over 12 million streams, a testament to the fan-base they've created in such a short period of time. While working on their latest offering, the band collaborated with Seattle duo Odesza on their lead single 'Line Of Sight,' which has since climbed Billboard's Alternative and Dance/Electronic charts and has amassed millions of streams.
Their expansive almost cinematic textured production meld Froggatt's intimate, honest lyrics. Stories of longing, hope and letting go meet careening sing-a-long choruses and smooth downtempo ballads, held by Bostock's sleek production and Nicholl's beats. Their collaboration is equal and assured.
Now, their breakout turn for the group, 'Astronaut (Something About Your Love)' is a genre-splitting shot from the soul; as playful as it is a sincere exploration of loneliness and distant affections. The song starts with a suite of otherworldly harmonics, "We shoved a microphone deep inside a piano and recorded all the atmospheric noises that came out," Bostock tells. "Like what I imagined an astronaut felt as if he was looking back at Earth."
It's the juxtaposition between Froggatt's intimate vocal delivery and the geographic stretch of Mansionair's production that makes them so intriguing. Another way to view their compositions might be as micro explorations of the grand internal; miniatures writ large. "I love that stream-of-conscious style of songwriting," Froggatt says. "As though you're sitting in the back of a party on a couch and you're just in your own head, overthinking everything."
Nicholls; rhythms bridge both live and programmed percussion: danceable and unpredictable, his beats draw the listener inward rather than blast out. Bostock describes the group's writing and production style (for the most part, done all on their own) as one in which each member is responsible for his instrument but all have a voice in the whole. "We see each of us a dimension in the band. We're three equal parts," Bostock says.
Not only have Bostock, Nicholls and Froggatt expanded their early chemistry into a self-sufficient writing and recording project, but theirs is also a partnership philosophically built on synergy. "We've grown up through this band and we've seen a lot already," Froggatt explains. "I want people who listen to us to know that even though life can throw punches, you can push back through anything and come out the other side."
Mikky Ekko has come home. After recording in places as far-flung as London, Stockholm, and Los Angeles, Ekko returned to the city that has proved both a permanent address and the creative sanctuary for his new album, Fame. It's said that people have lucky cities, a geographic location where they seem to flourish or feel they are their best selves. Born in Louisiana and raised in small southern towns, Ekko believes Nashville is magic.
Let's start with the title of the album, why "Fame"?
Fame is dirty and beautiful…like a crackhead in a ball- room gown. I've  felt  that  way for  a while, but I  knew  if I was creating an album around such an abstract concept I had to get my yin and yang balanced…really be transparent. The bitter and the sweet and the in- between, it's all me, it's all there. Ultimately, Fame is  the truest representation of my sound and my perspec- tive. It's the sound of me not compromising. Never, not once.
Was there a specific inspiration behind the album?
I was NEVER who I thought you were. I was NEVER who I thought you were. I was NEVER who I THOUGHT you were…It's really hard for me to verbalize the self-re- flection that took place…at least in a conversational way. The album is me finding my way through a labyrinth and the emotions I experienced along the way. Anyone can fake it…it's easy to put on hats, show people one thing and mime the rest…but at the end of the day you have to look at yourself in the mirror and say this is who I   am, and I wanted to give people access to who I am  with this album. Make your own way clear and help will find you…or it won't, but at least you'll know which way you're going.
To some, working with producer Jay Joyce might seem like an unlikely paring. Can you discuss the collaboration?
My gut just told me that Jay [Joyce] gets the beautiful shit and the noisy punk shit and the shit in between and that he would just get it. You can hear all that shit in his records. Also, I was hell-bent on NO Plan B. When my label asked me who I wanted to produce if Jay wouldn't do it, I said "Jay Joyce…or Jay Joyce…if he won't do it then I don't really know who is gonna do it." Having a Plan B feels like cheating on the future…you can't have it both ways.
What songs came first when setting out to make the record?
"Bitter" was the first song I wrote for the album and "Fame" was the second. When I played them back to back I knew that's how it needed to start and end…and that from there I had to take people on the journey that was my life in between those two points. If you are not happy with your situation GET THE F*CK. OUT. Then  do it your-F**KING-SELF. Get happy in YOUR situation.
Did you feel pressure after the success and atten- tion "Stay" brought?
The whole fairy tale thing lasted almost a year before things finally got back to normal… whatever that was. A lot of people expected me to hit the road with Rih or do more collaborations with other pop people. But just because you can, doesn't mean you should…and I spent a lot of time trying to balance who I should be vs. who I am. It was like a weird induction into a new high-school or something…when you're surround- ed by something it's hard not to think…"is this… maybe… who I am?" The easiest way for me to answer that ques- tion now is… no…but I needed all of that to write Fame, so I'm thankful.
The new album is your first since your debut  in 2015, Time. Did you approach making this album differently than previously?
With Time I cared a LOT about the man in the mirror…and who HE needed to be to make Time work. And I'm okay with that…I like peo- ple to know where I've been. But with Fame my focus was on self-reflection…on do-it-yourself… on my sound and my voice…because f*ck a mirror – I wanna know me when I press play.