8PM Doors ✖ Hall ✖ $13 ADV/$18 DOS ✖ 21+
Purchase your tickets in advance!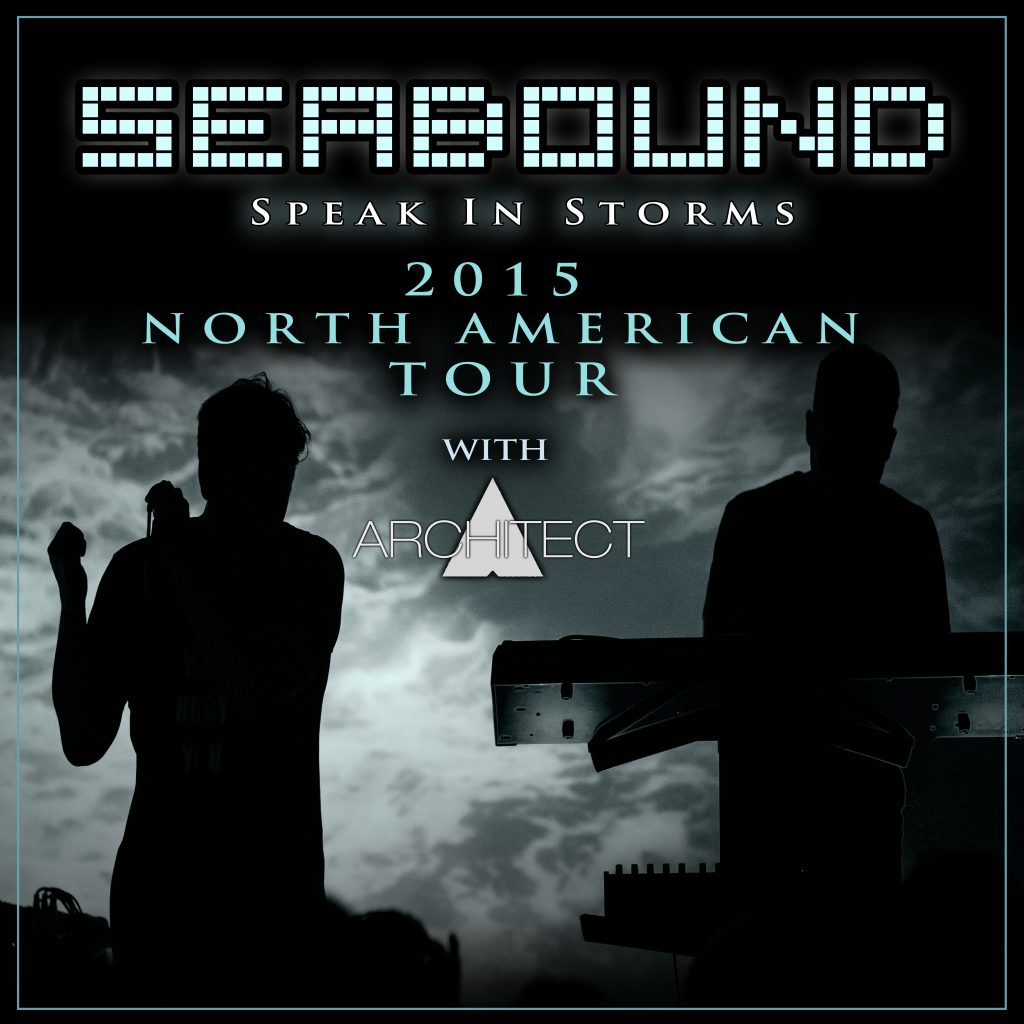 SEABOUND
Seabound return to the North America for the first time since 2009, in support of their latest album, "Speak in Storms" (Metropolis Records).
Seabound was formed by duo Frank Spinath (vocals) and Martin Vorbrodt (electronics) in 1995 and is one of the most highly regarded acts in the dark electronic scene. Their unique ability to combine cutting edge, modern music with emotional vocals and lyrics creates atmospheric, compelling work that separates Seabound from their contemporaries. The use and balance of contradictions takes listeners on a strange emotional journey. Lyrics frequently explore various elements of human psychology and often describe the experience of confronting very deep and personal desires. Music ranges widely from cold, synthetic, and even harsh to ethereal, atmospheric, brooding, and melodic.
Seabound's 2014 "Speak in Storms" is possibly Seabound's strongest effort to date. It is cohesive, with the ominous tension started in early tracks like "For Life" and "Contraband." The tension keeps building through to the danceable "Everything," which seems to be a deep exhalation of breath, a release. The relief is short lived, as "Lair" builds once again from the darker atmospherics, taking the listener once again into the moody world of Seabound. "Speak in Storms" is a compelling piece of work; it's the sound of broken dreams, of loss and anger, and, of course, love.
ARCHITECT
Architect is a unique hybrid of idm, electronica and smooth ambient soundscapes inexhaustibly explored by German mastermind Daniel Myer. In a career spanning over fifteen years, Daniel has been connected to but never belonged to a host of scenes and styles. Architect was created in 1998 and has since proven his mettle on a multitude of releases and on countless acclaimed concerts world-wide.
In 2010 Alan Wilder (Recoil) discovered Architect's brilliance, which led to Daniel performing as a support act for Recoil on several acclaimed shows in Europe and the United States. Architect's most pronounced quality is the accomplished combination of powerful grooves and atmospheric soundscapes resulting in music that is suitable for both listening and dancing.
Architect's sixth full length album, 'Mine,' constitutes an appreciable shift in direction compared to his previous works by adding compositional and instrumental innovations brand new to this project. Supported by well-respected artists like Ben Lukas Boysen a.k.a. hecq, guitarist and cellist Felix Gerlach, Dejan Samardzic (dsx), legendary producer, engineer and remixer Paul Kendall, Canadian musician and sound designer Comaduster and Hungarian vocalist Emese Arvai-Illes (Black Nail Cabaret), Architect marches to no one's beat but his own, expanding ambitious electronica with comprehensive down-tempo song structures. Moderate yet decisive beats and precise keyboard and string arrangements build the foundation for emese's exceptional voice transmitting suspense, depth and sinister beauty with perfectly fitting lyrics.
Depending on how and when you listen, this atmospheric release can fill you with menace and sadness, or send you into a deep reverie. Uncompromising, muscular and powerful, the music of 'Mine' is also full of subtle touches and a supple sense of rhythm.
Highly recommended for devotees of Moderat, Recoil or House of Black Lanterns – this album will be 'yours' for sure.
ENDLESS BLUE
Strongly influenced by the fruits of the downtempo Bristol sound of the early nineties, Endless Blue's music spins the trip-hop style in a new direction while staying true to their roots. They infuse trip-hop's "signature" lo-fi beats, vintage synths, and jazzy bass with guitar and songwriting that leans toward the indie-rock vibe of their original home of Minneapolis, Minnesota. Sprinkled into these grooves are eclectic snippets of other genres, from synth-pop to industrial to loungecore to staright-up rock. Finally, bringing it all together is a female voice that is a blend of numerous eras, from the torch singers of the '40s to the classic female rockers to the modern trip-hop singers.
Formed by vocalist Laura Hillman and producer Nick Mitchell in 2003, Endless Blue rose from the breakup of the Madison / Minneapolis electro-rock band STATE4. Leaving behind the frenetic, guitar-driven sound of their previous band, the duo quickly set off into the realm of dark downtempo. As the sound matured and the songwriting continued, Endless Blue added a second vocalist, jazzy crooner Amanda Oechsle. The trio recorded and released their self-titled debut, hitting the road for a short tour mid-2004. In 2005, Mitchell and Hillman decided to relocate south to Milwaukee. Oechsle decided to leave Endless Blue and stay in Minneapolis, while the remaining members began work on their second release, Smoke Through It. The second Endless Blue album garnered significant college and public radio play, and the band toured regionally to support it. The third release, Fever Dreams, was completed in late 2008 after a long three years of work and rework.
3/27/15