7PM Doors ✖ Hall ✖ $8 ADV / $10 DOS ✖ 21+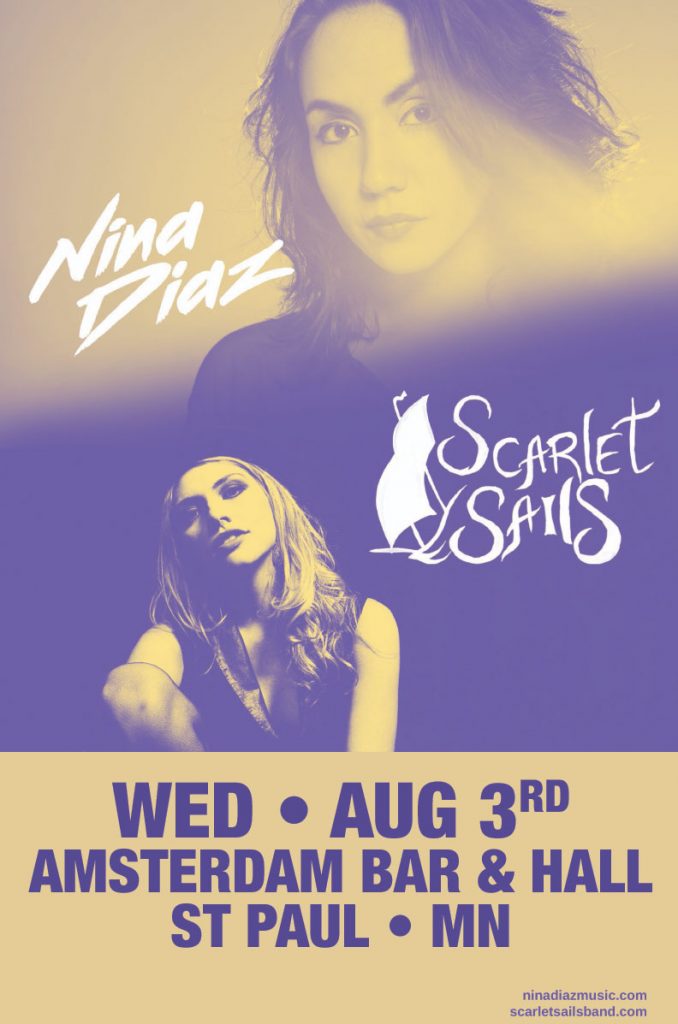 Scarlet Sails is a New York City based band formed by songwriter/pianist, Olya Viglione, and her husband and drummer, Brian Viglione (The Dresden Dolls, Violent Femmes) in 2014. The two began collaborating on music and soon enlisted guitarist Nick Emde (White Widows Pact) on guitar and New York session bassist, Jesse Krakow, to begin performing live and recording the band's debut EP. Producer/engineer, Martin Bisi (SWANS, Sonic Youth) recorded the 5 song offering at his own BC Studios in Brooklyn, and it was released on January 15th, 2016.
The band's sound draws from the evocative British rock such as Queen, David Bowie, and T Rex, with Olya's classical upbringing, and love of American funk and soul music. Scarlet Sails are planning a full-length release for 2017.
Nina Diaz has been hailed by NPR as "one of the two or three most exciting, scary-good vocalists in rock today." Nina Diaz entered the music business at a young age and is the front person for the band Girl in a Coma. At age 17, Nina and the band performed at New York's Knitting Factory as part of a taping for a television show. Joan Jett was in attendance and was so impressed, that she signed GIAC to her label, Blackheart Records, on the spot. The band's 2007 debut album, Both Before I'm Gone, was a critical hit with raves from Alternative Press Magazine, the LA Weekly, Bust magazine, among many others, with the album reaching No. 23 on Billboard's Heatseekers chart and No. 21 on iTunes. Girl in a Coma went on to release three more albums and toured the world opening for bands such as Sia, Smashing Pumpkins, Morrissey, Tegan and Sara, Amanda Palmer and many more. The band's most recent album Exits & All the Rest was named to NPR's 50 Favorite Albums of the Year.
Nina's distinctive voice and powerful live performances attracted
the attention of fans, producers and fellow artists. Nina collaborated
with Tiësto to co-write the dance track, "In Your Mind." Director
Robert Rodriguez is such a fan of the band that he not only filmed an impromptu music video when he first saw them perform at SXSW, but also asked Nina Diaz and the band to compose a song for the climactic fight scene in his movie, Machete.
Being a public performer at such an early age took a toll and Nina began finding an outlet as she began writing new material that was all her own. Nina launched her new solo project with a series of live concerts at The Belmont in Austin, Texas. On the first night of the residency,
Nina fronted a five-piece band and performed this new material to a sold out crowd. Since then she has performed to sold out crowds throughout Texas as well as at Maverick Music Festival, Fiesta de la Flor, The
Austin Music Awards and opening weekend at the Tobin Center for the Performing Arts. Her backing band, hand-picked by Nina to highlight her new sound, includes Jorge Gonzalez (drums), Johnny Shrink (keys), Austin Valentine (bass), and Travis Vela (guitar).
Nina Diaz's solo debut album is scheduled to be released later this year.