8PM Doors ✖ Hall ✖ $12 ADV / $15 DOOR ✖ 18+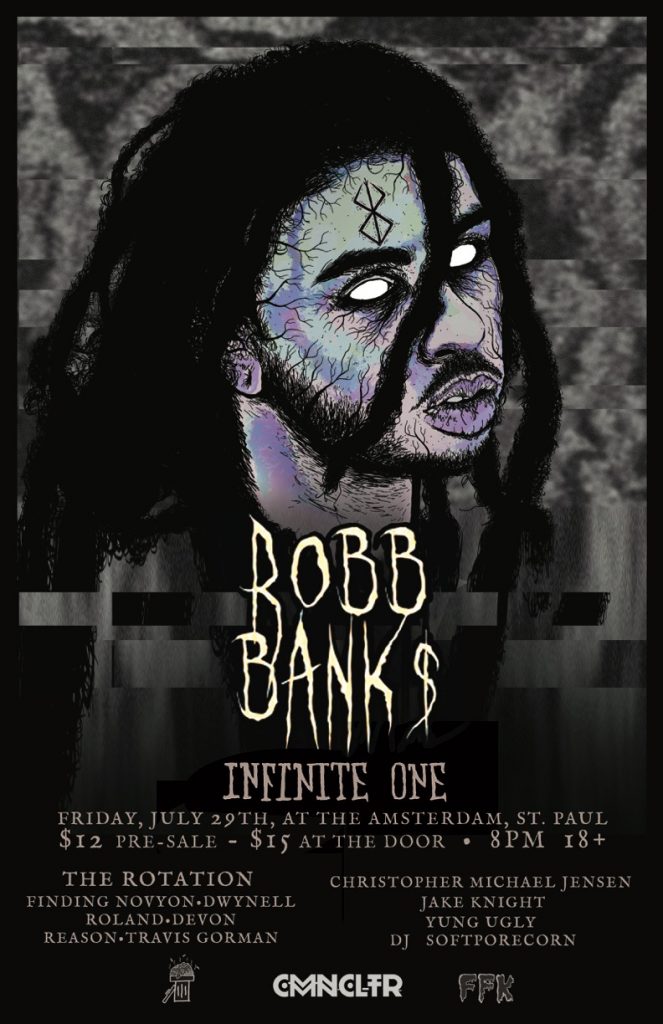 Robb Bank$
"Bank$ hit the internet music scene with a huge splash in 2012, when he was 17, with his mixtape Calendars. With that release, the Coral Springs-bred rapper referenced news stories, pop culture, drugs, 'bitches,' and, most unique, anime characters and themes. His is a call to a generation of young people like him — raised in the suburbs but tempted by the streets. 'Only thing I can speak about is my experiences — what I want and what I've had,' Bank$ muses. His music has the same dark aesthetic and fury of some of his contemporaries but is more evolved, woven through with personal and universal mythologies, with a high energy and clean sound. As with other musicians his age, the magic of the internet both built him up and tore him down. When the news hit the web that his father was Jamaican reggae star Shaggy, Bank$' first reaction was to deny it, which injured his credibility. At that point, he took a step back from the hype, quit music, stopped slinging drugs, and began reading more — an eclectic mix of titles, from The Satanic Bible to self-help books. Now Bank$ has re-emerged with his debut commercial album and four projects in the works — including an anime movie. It's as though his past four years have played out like a Joseph Campbell hero's journey, with all the drama of the anime cartoons Bank$ so adores. On the cover of YOTS, his silhouette slides sexily out of a pool of blood. He's like Osiris, the Egyptian god of the underworld returning to create life from death. He calls this moment a 'baptism' — everything people knew about him before has washed away, he explains. 'This project,' he observes thoughtfully, 'is almost like a rebirth.' From his beginnings on Tumblr to his more recent signing with a record label, Bank$ is showing millennial rappers that with charisma and good taste, it's possible to ride the web's wave all the way to the stage." – Miami New Times
The Rotation
The Rotation is a group comprised of rappers Finding Novyon, Dwynell Roland, and Devon Reason, as well as DJ and producer Travis Gorman. Dominating locally in music and fashion, 23-year-old wordsmith and beat wizard Finding Novyon has made quite the mark for himself amongst his peers in the chilly metropolis that is Minneapolis. With the momentum of his guerrilla-styled released EP's Keep Going and Gifted, the young star has evolved into one of Minneapolis's most promising up-and-coming artists. Novyon has performed at every credible venue in the city, including First Avenue's Mainroom and selling out 7th Street Entry. He's had the pleasure of slaying The Cabooze twice in one year. Also among the onslaught is appearing at fourteen other notable events since the beginning of the year 2014 after proving he could bring a crowd out on weekdays at north east Minneapolis's Honey Lounge. Finding Novyon seeks to further progress the expansion of his brand outside of Minnesota. Dwynell Roland was born and raised in North Minneapolis and has been rapping since the age of 13. During that time when he first started writing, he was part of a collective called TCB (Twin City Boyz). His time with the TCB was spent largely perfecting his craft of freestyling and honing his knack for writing songs with a stylistic flair similar to T3 of Slum Village or Schoolboy Q, perfecting his style while maintaining a writing style similar to Joe Budden. This is mostly shown when he has dropped various free verses via his YouTube page, showing his effervescence over such beats as "Stay Schemin'" and "Shine Blockas." Dwynell's experience doing recorded material was on his first mixtape, Upside, which has shown the strides he's made to perfect his songwriting craft, all the while making sure his style was at the forefront, with almost a drawl and depth to his voice. He released his album 92 & Roland in 2013, and his Factors EP in 2014. Devon Reason and Travis Gorman are also from Minnesota and describe themselves as having a style not like many others and are working harder than ever at their craft.
infinite one
infinite one is a collective based in the Twin Cities of Minnesota. They do and make whatever they want, screaming a message of freedom from self and the system we live in. Their sound is very unique from artist to artist, yet completely cohesive together. One minute you'll hear the grungy yelling on an overwhelming amount of bass and percussion. The next you'll hear conscious material over a timeless beat, and everything in between. They're the self proclaimed future, and strive to succeed in the name of the sad and lonely.
Christopher Michael Jensen has no alias. He lacks a fake persona. His music tackles everyday struggles, relationships, politics, and his own personal demons. His songs are at times self-assured and confrontational, and at other times vulnerable and soul searching. Through it all, however, he truly embodies the DIY philosophy and mantra of "living hip hop 24/7." A student of the culture for more than half his life, Jensen began rapping in the year 2000 when he was just 13-years-old. Born and raised in Minneapolis, Minnesota, Chris has been an extremely active member of the highly renowned Twin Cities hip hop scene. He has shared the stage with national legends and vets like Slick Rick, Cage, Joell Ortiz, 2Mex, Milo, Sadistik, Ceschi, Onry Ozzborn, Sapient, Kosha Dillz, and Soulcrate Music, as well as many local stars including P.O.S., DJ Abilities, Lizzo, Dem Atlas, Bobby Raps, DJ Tiiiiiiiiiip, Toki Wright, Kristoff Krane, Carnage The Executioner, Kill The Vultures, No Bird Sing, Guante, Muja Messiah, Metasota, Finding Novyon, and Sean Anonymous. In 2015, he also toured the midwest on the Ain't No Hold Up Tour. In 2014, Chris released his latest solo album CM Cool J, his most fully realized and focused work to date. Each of the 13 tracks on the album contain production from a different Minnesota beatsmith, with features from recent Rhymesayers signee Dem Atlas, as well as Liz Harper, Ashley Seeler, North Star Wisdom, and Lydia Liza of Bomba de Luz. In a review, Reviler.org commented that "what's great about Chris is that with each release, he raps with a bit more confidence, and vocally he raps very conversationally, with almost a cynic twist, which definitely sets him apart," adding that CM Cool J is "a lot more than meets the eye on the surface." RapReviews.com said at times on the album Jensen "sounds like the Twin Cities meets The Coup," and during other moments "is a little bit Marshall Mathers." Christopher Michael Jensen has also been heavily involved with several charitable endeavors, playing a benefit for the Make-A-Wish Foundation in 2011, and the following year performing in support of international organization Oxfam and their fight against the West African food crisis. 2012 also saw the beginning of "Rap For Life" – a benefit series spearheaded by Jensen and his friend Ashley Seeler that has raised thousands of dollars for many life-or-death causes including suicide prevention, chemical dependency awareness, domestic abuse awareness, mental health, and at-risk youth. Other causes Chris has been involved with include benefits for the homeless, AIDS patients, children with autism, charter schooling, the fight to end sex trafficking, LGBTQ pride, and the troops and veterans.
Yung Ugly
Yung Ugly a.k.a. LIL 777 is the iced-out lonely thug rapper from Richmond, Virginia. He also carries the title as CEO of Icey Trvp Record$$.
Jake Knight
Jake Knight is a rapper from Minneapolis who on his Twitter pages describes himself this way: "Feet smeller. Beet garden excavator. Fetch lord. IPA gawd. Wifi salesman. Verbal wordsmith. Tear collector. I tweet a lot and delete them all."
DJ Softporecorn
SOFTPORECORN is comprised of Antioch and Jayke Rhymes. They are a rap duo from Minneapolis who also produce, as well as DJ.