6:00PM Doors/7:00PM Show ✖ Hall ✖ $20.00 Adults-$10.00 Kids 12 & Under ADV / $24.00 Adults-$10.00 Kids 12 & Under DOS ✖ All Ages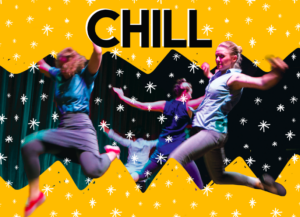 Show Times:
12/1: Doors 6pm, Show 7pm
12/2: Doors 1pm, Show at 2pm (Pay As You Are)
12/2: Doors 6pm, Show 7pm
12/3: Doors 1pm, Show 2pm
Tickets:
Adult Advance: $20.00 + taxes and fees
Adult At-Door: $24.00
Kids 12 & Under Advance: $10.00 + taxes and fees
Kids 12 & Under At-Door: $10.00
Pay As You Are Advance: Sold in $5.00 increments
Pay As You Are At-Door: $0.00 – whatever can be paid
As the weather chills, we chill into playful original choreography and movement improvisations set to the groovy jazz tunes of Vince Guaraldi's playful and nostalgic "Charlie Brown Christmas" soundtrack, played live by local jazz musicians! After rave reviews and two years of big, enthusiastic crowds in 2018 and 2019, local jazz and American social-inspired dance company Rhythmically Speaking is teaming up with Amsterdam Bar & Hall once again to revisit CHILL, the unique dance and live music show that serves the Twin Cities public up some Charlie Brown holiday joy. CHILL pairs a cast of seven dynamic local dancers and a live jazz quartet – The Jazz Outlaws – to bring the entire soundtrack of 1965 animated TV special "Charlie Brown Christmas" to life, and we're making some exciting tweaks to keep the show fresh. CHILL offers a unique holiday outing option great for yuletide revelry-seekers of all backgrounds and ages: kids 12 and under are just $10.00 (and lap-sitters are free), the show has a start time that is earlier than normal for a lot of live theater and it runs about an hour, making it an ideal option for families! Come experience some quirky holiday joy – and enjoy a pint and a meal while you are at it – through festive live jazz music and dance show CHILL!
Rhythmically Speaking is a Twin Cities-based 501(c)3 nonprofit dance company sparking vibrancy and connectedness through jazz and American social dance ideas. With shared roots of groove, interaction and improvisation, these approaches encourage simultaneous expression of difference and similarity as a means of creating community. The organization is honored to be a local and national leader in celebrating the rich history of these forms while nurturing their innovation. Since their founding in 2008, Rhythmically Speaking is proud to have presented 106 original and remounted artistic works and engaged 355+ artists and thousands of audience members and outreach program participants, bringing people together to speak with one another through embodied rhythm.