8PM ✖ Hall ✖ $3 RSVP / $10 DOS ✖ 18+
w/ Greg Grease ft. ZuluZuluu, Yabil, & DJ sets by Sarah White & Tiiiiiiiiiip
Curated by Green Room Magazine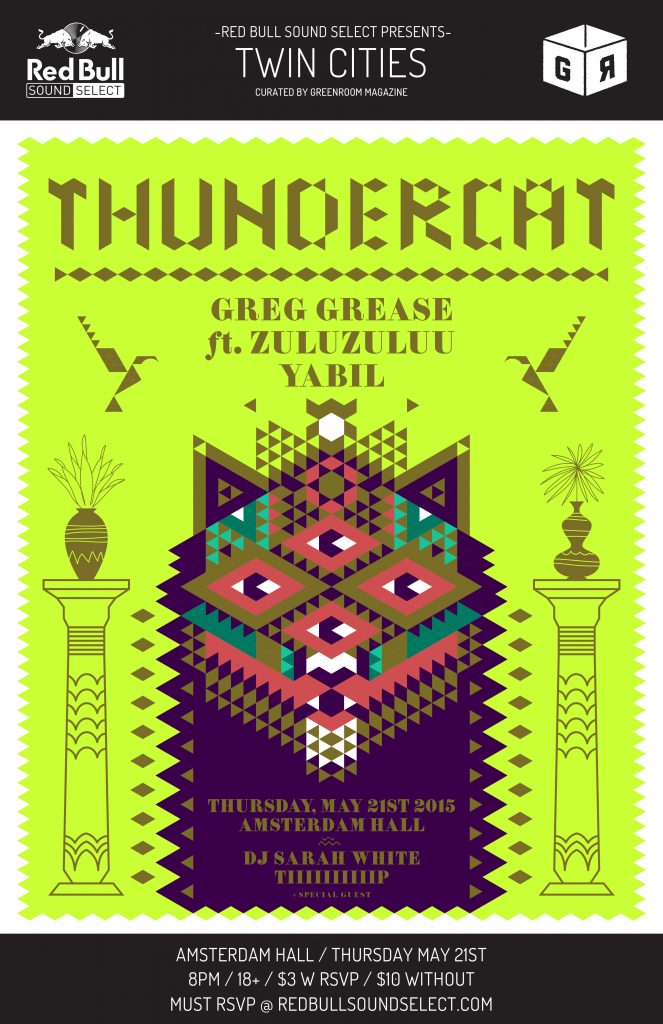 Thundercat is a monster on bass. A virtuoso. A phenom. His stupendously nimble playing is akin to a jazz player's, and that influence is felt on his debut album, The Golden Age of Apocalypse, co-produced by Flying Lotus and out now on Brainfeeder. But, like FlyLo's brilliantly spaced-out 2010 LP Cosmogramma (which featured Thundercat on several tracks),Apocalypse updates the 1970s jazz fusion of Herbie Hancock and Roy Ayers with a modern sheen. The music resides somewhere between Stevie Wonder and Sun Ra, its open optimism made slippery by the undulating arrangements and Thundercat's always-on-the-move fretwork and humbly soothing singing voice.
Born Stephen Bruner, the bassist grew up in a household where music was a given. His dad, Ronald Bruner, Sr., played drums with Diana Ross, the Temptations, and Gladys Knight, and his brother, Ronald Bruner, Jr., is a Grammy-winning stickman who's worked with jazz heavies including Roy Hargrove, Stanley Clarke, and Wayne Shorter. While still in high school, Stephen joined his brother as a member of West Coast punk vets Suicidal Tendencies. In the following years, he toured the world and worked with an impressive list of stars from soul legend Leon Ware to Erykah Badu to Snoop Dogg.
-Pitchfork Media
05/21/15