7PM Door ✖ Hall ✖ $15 ADV/ $18 DOS ✖ All Ages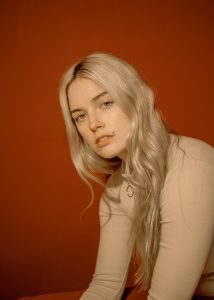 Prolific singer-songwriter Ashe continues to build upon her electrifying momentum in 2019 with a brand new single titled "In Disguise". It's an infectious release primed for audience sing-alongs that she explains is "about having healthy boundaries with the people around you. I don't want to make everyone feel suspicious about the people they love, I just know there's been several people in my life who were seemingly 'there for me' when they really just wanted to use me. It's just another look at the human condition."
The release also marks the announcement of the sprawling Mom's First Headline Tour presented by Live Nation's Ones To Watch and featuring support from Charlie Burg. Beginning on September 10th in Washington, DC, the trek will run through October 25th as she wraps up over a month of performances in Atlanta, Georgia. It marks a natural collaboration between one of music's premier tastemakers in Ones To Watch and one of the scene's most exciting voices in Ashe.
Charlie Burg
Hailing from Metro Detroit, Michigan, Charlie Burg gathers inspiration from all corners of the music spectrum. His music is a technicolor sweater, woven with his unique brand of warmth, soul, and upbeat funk.

Charlie's father once gifted him a book of Ralph Waldo Emerson essays, and from one he pulled the inspiration for a series of three EP's, released over the course of one year. Essentially, they make up an extended album; but at 7 songs each, they convey three completely unique sonic messages. The names of the EP's: One, Violet, Two, Moonlight, and Three Fever, are taken from resonating segments of poetry within that essay.

One, Violet, was released on September 18th, 2017. In January 2018, Charlie began releasing singles for Two, Moonlight, attracting a new wave of listeners that became fast fans as he began calling upon his fans and interacting with them. Discussing topics close to them and supporting them through their endeavors, whether it be on a personal level, a cover of one of his songs or a painting of him.

July 20th, 2018 marked the release of Two, Moonlight, followed up by handmade lyric booklets mailed to his die-hard fans and a live performance debut in New York City and Los Angeles, both of which sold out. Since the LA show was 21+, he did the underaged fans justice and hosted an open get-together in Roxbury Park, where fans drove from as far as San Diego to sit in the grass with him as he played them their favorite songs acoustically.

On November 1st, Charlie released "To Dance Is To Love," the first and only single off of Three, Fever, gathering attention from tastemakers at Beats 1 Chart, Spotify and more. While One, Violet and Two, Moonlight are portraits of the fleeting beauty of the outside world, Three, Fever finds Charlie Burg looking inward. Released on January 4th, 2019, Three Fever is only the beginning of more gifts to come for the fans who helped get him this far.