8:00PM Doors ✖ Hall ✖ $8.00 ADV/ $10.00 DOS ✖ 18+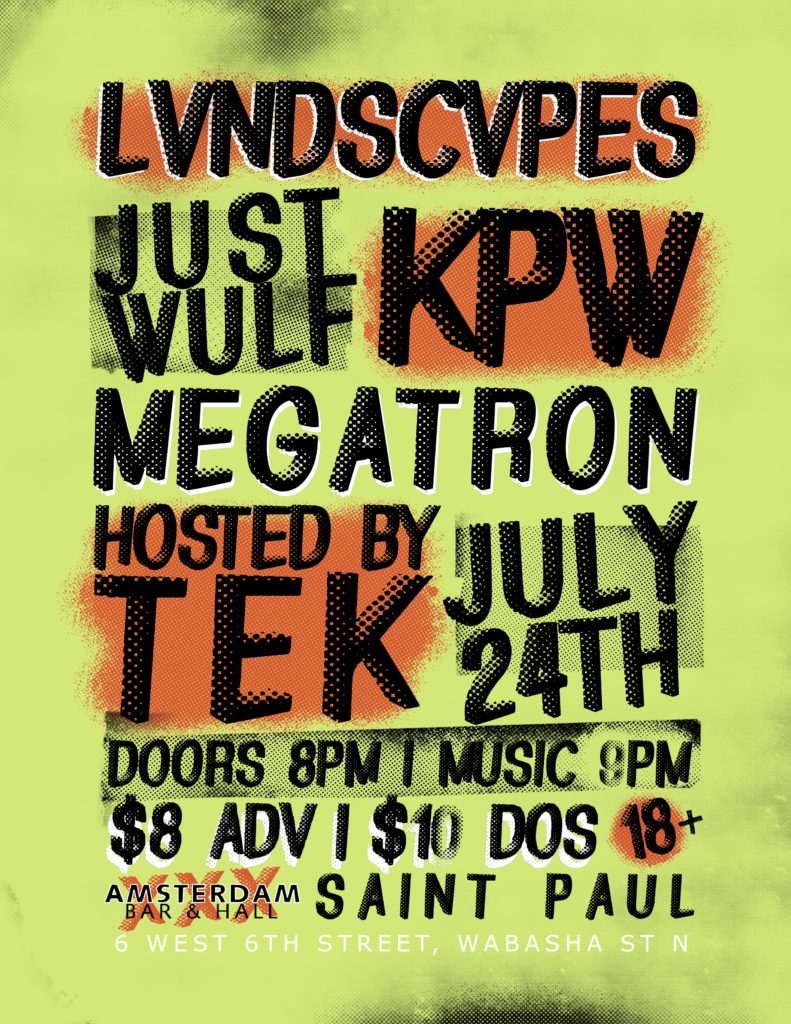 As an active member of the Twin Cities Hip Hop scene for the last 20 years, MEGATRON has spent a long time honing the skills needed to set himself apart from other rappers, musicians and producers. With a technical, story driven style, MEGATRON has graced stages from Philidelphia to Australia. His songs "No Gimmicks" and "Saint Paul" as well as numerous others have been heard not only on The Current but on college radio around the country. Despite years of shows, tours, projects and collabs MEGATRON is just as excited to perform in front of a crowd as he was 20 years ago.
||||
Skilled. Smart. Passionate. These are just a few words that represent indie hip-hop artist, Just Wulf, an emerging talent from Saint Paul, Minnesota. Mixing a battle rap bark with surprisingly humble common-man narratives for the everyday listener, Wulf brings a bolstering, "community-first" vibe to his live performances. With a handful of full-length projects and song features under his belt, he continues to gain national attention, from radio appearances, public speaking engagements, and touring with Carnage The Executioner. Just Wulf proves that he's not "just another rapper" and flexes his multi-faceted work ethic by curating shows, hosting even the skills needs, live streaming, running a clothing line, and producing for other artists. He has been silently working on new music and will be releasing his second beat tape, an EP, and a full-length project in 2021.
||||
Standing strong as a non-binary powerhouse in hip-hop, LVNDSCVPES has been proving time and time again that they are a force to be reckoned with in the Minneapolis hip-hop scene. Originating from Akron, Ohio, LVNDSCVPES moved up to Minneapolis and immediately hit the ground running with Their first single 'Why Am I Like This' featuring Blueprint.
One of the fastest-rising names in Twin Cities hip-hop, LVNDSCVPES has been riding the momentum of a major year with Their Bobby Raps-assisted radio smash "No Shame" and her Valentine's Day single "Sweet Tart"
LVNDSCVPES has continued to showcase their Ferocious personality and charm through their explosive live performances and has shown that they are a staple in the world of hip-hop.
||||
KPW is an independent, American hip hop artist and producer. Originating from Northern Virginia and eventually re-locating to Minneapolis, Minnesota as a teenager, he began writing and recording songs at the age of 16. He uses a consistently content-driven musical approach, as he outputs a classic hip hop sound. At the same time, KPW also produces relatively experimental beats.
As of 2020, he's collaborated with other producers from several countries, including but not limited to the U.K., Japan, The Netherlands, India, France, Bulgaria, Switzerland and Tanzania, as well as in the United States. KPW has also headlined four shows at the legendary First Avenue concert venue in Minneapolis, Minnesota.