6:30PM Doors ✖ Hall ✖ $12ADV/$15DOS ✖ 21+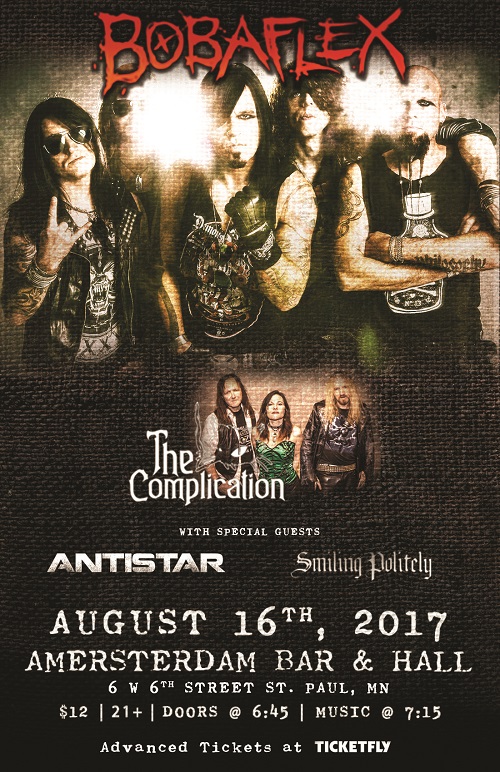 Born out of the ashes of record label bankruptcy, Bobaflex found themselves lost at sea when they started their own label BFX Records for the release their first independent album Chemical Valley in 2010. The album set the mold for Bobaflex's fiercely independent way of life.
Originating in Mason, West Virginia, Bobaflex will be releasing their 8th studio albumEloquent Demons on Friday, August 25th, 2017. The first radio single was a cover of Pink Floyd's Hey You, check out the video here: https://youtu.be/rm5eWLXW6l4. The second single Long Time Comin' will impact radio on August 1st.
Eloquent Demons is the follow up to 2015's Anything That Moves. The first album to feature Dave Tipple and Jymmy Tolland.
The band was originally signed by Eclipse Records to release their first full length album Primitive Epic. y band went on to TvT Records where they released two albums in Apologize for Nothing (2005) and Tales From Dirt Town (2007). label went bankrupt in 2009.
The band decided to go the independent route and started their own label, BFX Records in 2010 in order to control their own destiny. They released an EP in 2010 called Chemical Valley. With the exception of a re-recorded version of 2007's Home, all the songs on the EP would become part of their full release in 2011 Hell In My Heart which featured 16 songs and their top selling single to date Bury Me With My Guns On and their very popular cover of Sound Of Silence (Simon-Garfunkel). Hell In My Heart was followed in 2013 with Charlatan's Web which included the single I'm Glad You're Dead their most successful song at radio in their history.
Bobaflex's tireless ethos has also carried into their live shows and touring schedule. Having played all lower 48 states over the last 7 years, they have played 100+ shows every year including a record setting 154 in 2016. This constant schedule has crafted the band into one of the tightest and real live Rock n' Roll bands in the country.