6:30PM doors ✖ Hall ✖ $20 ✖ All Ages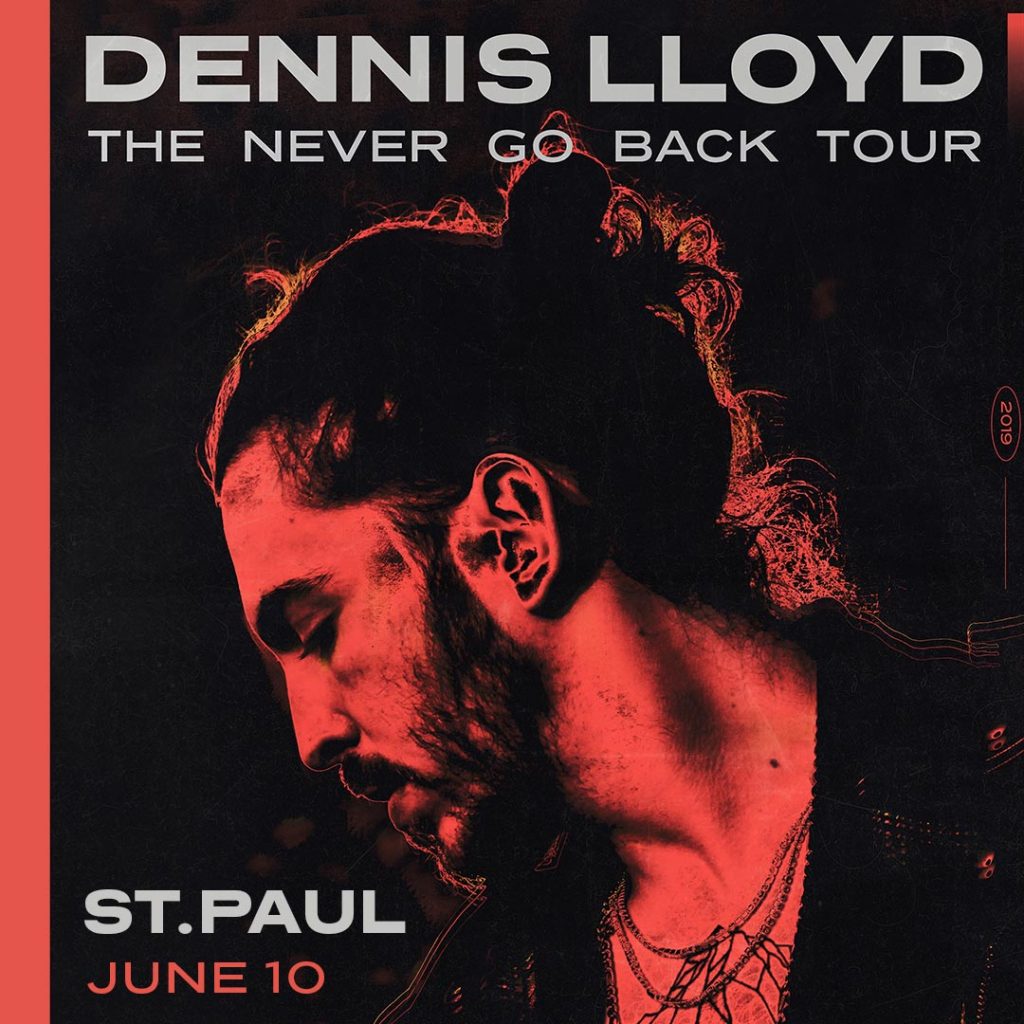 Born Nir Tibor in Tel Aviv, Israel – singer, songwriter, producer, and multi-instrumentalist Dennis Lloyd transcends culture and genre with music that innately resonates worldwide.
With dreams of international influence, Nir coined his moniker Dennis Lloyd in an effort to connect with a diverse audience, choosing the name after countless internet Google searches to find the most accessible combination.
"I wanted a name that would translate around the world," says Dennis. "It's always been an aspiration of mine to be an international artist. No artist from Israel has really ever broken out."
And having released his first single in 2015, just three years later Dennis Lloyd has done just that. His breakout hit "Nevermind" is a global phenomenon having amassed over 750 million streams across all DSPs, is platinum in seven countries and reached #3 on the alternative radio charts in the US.
The success grew organically from the song's almost mysterious versatility. From its melody to lyrical composition, it crosses all genres and employs a sense of emotional complexity in the midst of relatable simplicity.
Dennis' musical background and raw human experience accounts for such sonic rarity.
He learned to play the trumpet at age 8 and the classical guitar at age 13. While on a family trip to the US in his early teens, Dennis recalls buying his first microphone that he quickly put to use writing and recording original music from his bedroom.
For high school, Dennis attended Thelma Yellin Art School where he studied jazz, honing his technical skills, specifically that of the trumpet. But during this time, he was often criticized for his diverse taste in music and for his desire to sing. Many of his peers told him to abandon any dreams he had of performing as a singer.
"A lot of people made fun of me for singing," says Dennis. "They said to stay in my lane, play trumpet because you can't sing."
The limitations people suggested only fueled Dennis' desire to defy them. His message today is simple, yet powerful. "Do your thing," says Dennis. "Be yourself and don't listen to the critics."
After art school, Dennis enlisted in the army where he served for three years. After this separation from music, he was more motivated than ever to create and decided to move to Thailand in 2015 in search of a creative haven, which for Dennis is in silence.
Basking in the quiet space of a single bedroom apartment in Bangkok left with no wifi and only his instruments, laptop, and a microphone, Dennis spent one year writing and recording.
"The key for me was that I couldn't listen to new music," Dennis says. "I couldn't listen to what was going on in the world. So I had to create what I wanted to hear."
It was during this time that Dennis composed and recorded approximately 40 songs, including "Nevermind," written about a Colombian woman he began dating while in Bangkok.
After self-releasing the record in 2016, "Nevermind" began gaining traction on Spotify eventually peaking at #10 on the Global Viral Charts.
At first, Dennis was not even aware of the song's rising success as Spotify was not yet available in Israel at the time. But as emails began flooding in from records labels around the world, Dennis quickly realized the song was taking on a life of its own. Teaming up with management company ONEWAY., Dennis and his manager Josh Fluxgold set out to maximize the growing global interest. Dennis hit the road on his first international sold out tour, 16 markets in Europe and North America. By this time, "Nevermind" had landed on Spotify's Today's Top Hits playlist amongst superstars such as Shawn Mendes, Ariana Grande, Post Malone and the like, reaching #1 on three separate occasions and staying on the playlist for 185 days – one of the longest stints in Spotify history.
His shows, specifically in Tel Aviv, were growing exponentially as well. In 2017, he was playing a 250 capacity venue and by 2018 Dennis sold out multiple nights at a 2500 capacity room in minutes.
Dennis says, "The best part of the tour was hearing fans not only sing along to "Nevermind," but they knew all my other songs too." After recently inking a deal with Arista Records in the US, Dennis now plans to release his next project in early 2019.
Anchored by new single "Never Go Back," the project is a collection of songs he says tells a complete story. "'Never Go Back" is written about the same girl as "Nevermind." I wrote it after we broke up during a really lonely time when I felt depressed," says Dennis. "If I don't feel anything, I don't write music. But I wrote and recorded this in 45 minutes. The song is a dialogue between her and I. It's part of a group of four songs that tells the whole story."
A one-listen earworm threading the needle somewhere between R&B, reggae, salsa, pop and jazz with Dennis' trumpet solo and a verse delivered in spanish, "Never Go Back," listens even more like a viral chameleon than its predecessor megahit "Nevermind."
With Dennis composing, writing, performing, and producing every inch of his records, the level of thought and emotion put into each note is undeniable, while the melodies are brilliantly simple and irresistible.
Without a doubt, Dennis Lloyd has and continues to become a global artist with a reach far beyond his bedroom in Tel Aviv.
And if there's anything Dennis Lloyd wants the world to know, it's that they can do it too. "Do something that makes you happy," says Dennis. "And believe in yourself."