6:30PM Doors ✖ Hall ✖ $20.00 ✖ All Ages

The box office entrance will be located at the red double doors located on Wabasha Street. We encourage guests to queue up inside the vestibule up the stairs of the parking ramp in order to stay out of the cold and out of the way of traffic. We ask that you make two lines (one for VIP and one for General Admission) as noted by signs that will be hung up in the vestibule that day.
For questions regarding this show, please email info@amsterdambarandhall.com.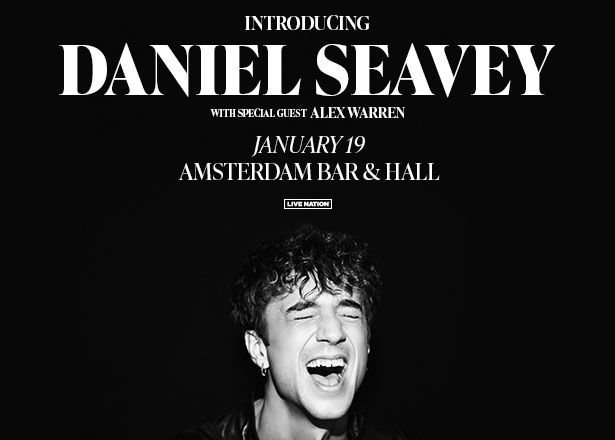 Life has certainly changed for Daniel Seavey, but he still makes the kind of music he was destined to make. The multiplatinum Why Don't We Co-Founder, singer, songwriter, multi-instrumentalist, and producer asserts himself as a bold and boundless solo artist with an ever-evolving collage of rock, pop, alternative, and electronic layers, shifting past one another in tectonic fashion. Hailing from Portland, Oregon, he fell under the spell of Norah Jones and Adele courtesy of his mom. At just nine-years-old, Daniel's father encouraged him to busk at a local art walk on Thursdays. Since dad also served as a pastor, he developed his chops on the cello by performing in the church band. After hearing "Jungle" by Drake in freshman year of high school, he embraced favorite artists such as Mac Miller, Kendrick Lamar, and The Weeknd. In 2016, he co-founded Why Don't We and embarked upon an unbelievable six-year journey highlighted by over 4 billion global career streams, two RIAA Platinum-certified singles, five RIAA Gold-certified singles, two Top 10 albums on the Billboard 200 chart, and sold out tours with multiple stops at legendary venues a la Radio City Music Hall. On the road with Why Don't We, he often penned and produced nascent solo ideas. In 2022, he hunkered down in his home studio and wrote and recorded what would become his debut. He not only sang and produced, but he also played every instrument, infusing a piece of himself upon each facet. As he continues to explore his creativity, he introduces himself on a series of 2022 singles led by "Can We Pretend That We're Good?."