8PM Doors ✖ Hall ✖ $15 ✖ 18+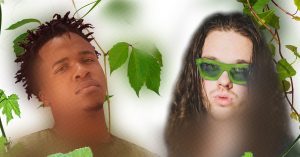 Even with so much music already under his belt Allan Kingdom has no plans on slowing down. Born in Winnipeg Canada, to a South African father and Tanzanian mother, whose career led her to St. Paul, Minnesota, where Allan was raised, speaking Swahili as the predominant language at home. As Kingdom grew up he made music in his bedroom, collaborating with artists via the internet. Soon after he released his first project entitled "Future Memoirs" in 2014, he was named "Best Hip-Hop Artist of 2014" by City Pages and was listed on Complex's "Top 25 Rappers to Watch" list. Upon hearing Kingdom's music, Kanye West requested his vocals for the single, "All Day". Soon after Kingdom found himself performing the track live with Kanye at the Brit Awards, England's equivalent to the Grammys. Allan has just self-released his latest album, LINES to much fanfare and acclaim, along with a successful European tour. The album includes notable guest artists such as Denzel Curry, Ramriddlz and Kevin Abstract. Producers such as FNZ, Ronny J, Dro, and Jared Evan also lend a hand to the album. He will begin a nationwide headline tour in July to support the album along with appearing on numerous high profile collaborations that will drop throughout the year.
With his raspy delivery and introspective lyrics, Minnesota rapper, singer, and producer Bobby Raps gained national attention as part of St. Paul collective the Stand4rd. He started rhyming and producing beats while still in high school, self-releasing his debut mixtape, Gimme Daps, during his senior year. A talented battle rapper, the young MC went on to open for E-40 and Too $hort. After connecting with local R&B singer Spooky Black (aka Corbin), the pair began recording. Their first track, "Ready," caught the attention of Psymun and Allan Kingdom, who joined the duo to form the Stand4rd. The quartet issued their self-titled debut in 2014 and went on to sell out their first tour. As a solo artist, Bobby Raps continued to record outside of the collective, going viral with "Feed the Streets," which was featured on the promotional mixtape Watch the Stove. In 2015, he released the couch potato EP with Corbin and the Wicked City collaboration with producer SinGrinch. Signing with Republic Records, Bobby Raps released his debut LP, MARK, in 2017. The LP featured production by Shlohmo and D33J on 14 tracks of his woozy Auto-Tuned croon and emotional raps.
Since 2014, Austin Jordan has been hitting the music scene with powerhouse tracks spanning a diverse array of music genres. Though hip-hop/rap may be his focus, genres from techno to country don't scare his creativity and courage to produce a unique masterpiece. He's earned a deep respect from nationally known artists and influencers around the country. Over the past year, he's expanded his training and opportunities through his entertainment company, known as AG4ME Entertainment LLC
The spark to Austin Jordan's passion for dynamic quality music occurred in 2009 when Stokley Williams of the Grammy-nominated group, Mint Condition, spoke key encouragement into what 13 yr old Austin Jordan felt was only a hobby at the time. Austin Jordan's dad fostered his son's musical bond with Stokley, wanting his son to experience as many different opportunities as possible. Austin Jordan excelled at everything. Whether it be in music, statewide recognition as an award-winning football running back, or achieving straight A's in school, Austin Jordan has learned to run his own race so that his best can rise to every occasion.
By 2012, Austin Jordan devoted his time to fine-tuning his skills in songwriting, performance, and production. He chose to sacrifice his potential career in football to focus on both his education and his music. He even understood the wisdom in sacrificing present time with friends to work hard towards a long-term goal, as "it's a lonely road when you want to be the best!". Austin Jordan's foci became family, studio work, and the gym. He knew he had to go all out now to make his dreams a reality. By keeping true to his values, he only competed with himself. Rather than devoting time to competing against fellow artists, he found ways to collaborate with them and mutually promote his partners.
Austin Jordan's legacy is to leave a positive mark on the community, be respected as a top-tier artist, and set a fresh diversified music standard for his younger fans who may follow in his footsteps. Teaching comes naturally to him. Not only does he give back to children attending school and empower them in getting a good education, but he also plans to eventually start a label for fresh artists. Beyond all of his accolades, Dean's Listing in college, and boundless music potential, Austin Jordan wants to excel primarily at having a good heart and being a well-rounded respected individual.
North side Minneapolis born and bred Mac Irv gained a love for all music at an early age which stemmed from living next door to Fred Steele of the gospel music legends the "Steele Family" and directly across the street from musician Cornbread Harris, father of the legendary Jimmy Jam. Also inspired by "The artist Formerly known as Prince" a legendary musician who comes from the exact neighborhood where Mac Irv grew up with his extraordinary singing, song writing, and performing ability.
Since Mac Irv could talk his grandfather was teaching him how to rhyme, which then developed to him putting small poems and raps together to perform for his friends and family. From there him and two friends actually put together a rap group when he was nine years old. But Mac also had another love. Basketball took up all the time that music didn't, and almost overtook the music because of his exceptional talent on the court. As he grew up he became more and more heralded for his play on the court, but continued to constantly write and listen to music anytime that he could. Mac Irv was swamped with expectations on the hardwood and slowly started to live his music dreams through friends who were involved solely with music.
Spending time on the court, then spending time in the studio with still a strong infatuation for music. Making music on the court got him a full scholarship to play division one basketball at the University of Oklahoma and the University of Minnesota where he decided to start recording on a computer at a friends house anytime that he had a chance between studying and practice. After graduating college he traveled to Europe to play professionally which gave him a chance to focus a little more writing and getting back to his love for music once again. From there he spent some time in the NBDL but ended up having surgery which was the turning point to his music career. Mac had time to think and create the music on how he was feeling at the time which was somewhat of a musical healing and was able to start record seriously. From this point on the music had totally taken over. As soon as he hopped in the booth the feeling was more than amazing. It felt like it was meant to be. His voice intertwined with the music sounded heavenly.
He knew that this was exactly what he was supposed to be doing. His lyrics and delivery were similar to someone who has been recording for years. The same swagger and passion he had on the court shined right through with his music. Mac is the sole definition of hip-hop, extremely lyrical but also very woman-friendly with the music and on the EYES. Mac Irv is a very straightforward, witty and truthful storyteller who only talks about real life experiences, failed expectations, relationships, having fun and chasing dreams, which so many can relate to. The music is an outlet he uses as an open diary to the world. Almost a best of both worlds. From the city, but has the college experience so he easily relates to everybody which leaves numerous stories to be told, which you can tell from his music.