7PM Doors ✖ Hall ✖ GA: $12 ADV/$15 DOS; Tables: $60 Table for 2, $120 Table for 4 ✖ 21+
Purchase your tickets in advance!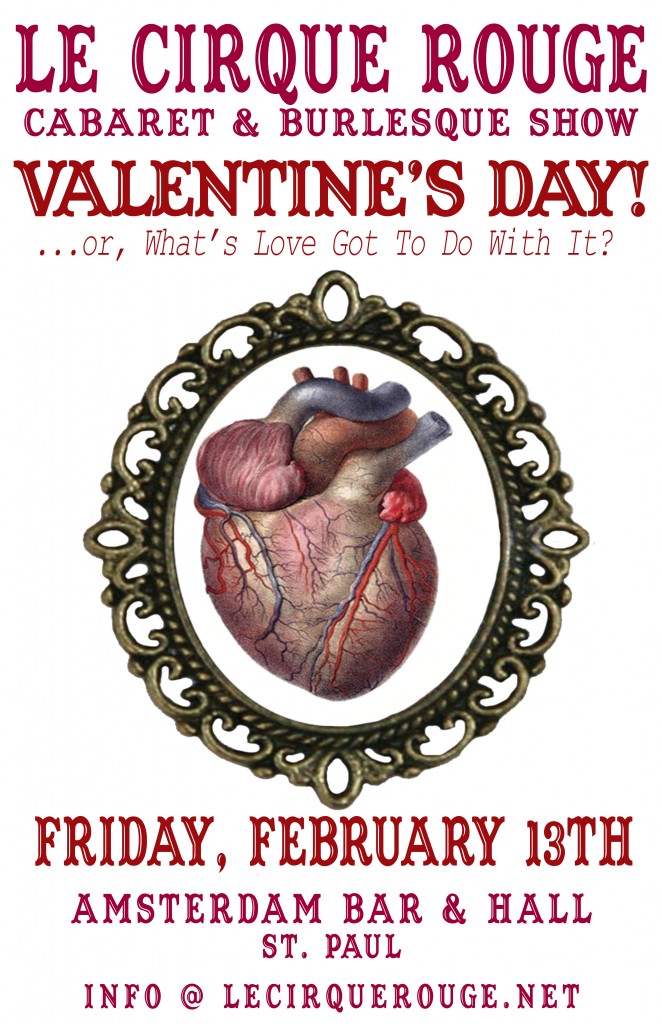 Whether your heart is bursting at the seams with love, or bleeding from the wounds inflicted by a cruel cupid, celebrate Valentine's Day with Le Cirque Rouge Cabaret & Burlesque Show, with a special mid-show set by comedy-bluegrass band, Courtney McClean and the Dirty Curls!
LCR features the twin cities best burlesque performers including, Queenie von Curves – just back from her tour celebrating the holidays in the Outer Hebrides, and Dr. Victoria Vaughn, who spent her holidays burlesqueing in a warmer climate – the Hawaiian Islands! Also performing their very special brand of comedy and dance, Buttercup Flowers and Fanny May! Other special guests include: Hussy Hautepants, Red Austere, and Sassy von Stradler! LCR also has cabaret singers, Mugsy! (Black Diet), Randall Throck Morton, and Corinne Caouette – all joined by their ever expanding jazz band, emcee/singer Amy Buchanan, and comedian-houseboy Garron Haubner.
2/13/15