7:30PM Doors ✖ Hall ✖ $7 ADV ✖ $9 DOS ✖ 21+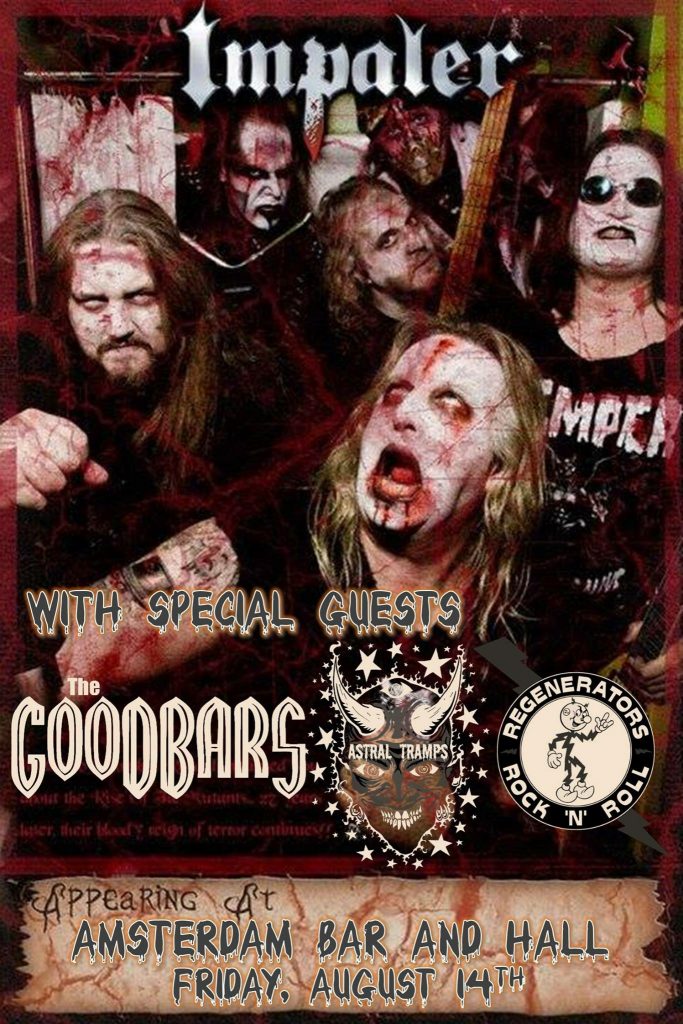 Impaler
Impaler celebrates their 31st year of Shock Rock in 2014. They recently released their 12th album: "30 Years & Rising" last year.
Impaler is a Minnesota horror rock band from the Twin Cities. The band formed in the spring of 1983. Impaler has a theatrical show which features fake blood, cages, coffins, latex severed heads and a finale that includes a mock disemboweling of victims.
Impaler recorded demo tapes which caught the ear of Important Record Distributors and lead to the band being signed to the in-house labels IRD Records and Combat Records. They released two records with these labels, the first being the Rise Of The Mutants EP (1985)which caused much controversy with Tipper Gore and her P.M.R.C. organization. The record cover was also used as a prop in the cult horror movie Trick or Treat.
The GooDBarS
The GooDBarS are Minneapolis' premier all original punk n roll band. Formed in 2007, the band quickly gained recognition in awesomeness. They have a knack for blending the elements of the 70's and 80's musical sensibilities with the swagger of cock-rock charm. Not to be dismissed, the band has a great original live set that usually features a rendition of some classic old tune that has inspired all of its members to get into this crazy act called rock. Song writing subjects include the devil, motorcycles 'n cars, boozing 'n losing and of course women, sex, drugs and rock n roll. The GooDBarS blend the grumbling, growling vocals of RJ on top of the great guitar duel of John and Michael as well as the excellent rhythm section of Bart and Todd.
Astral Tramps
Astral Tramps are a Minneapolis band inspired by punk rock, horror and the unknown.
The Regenerators
A multi-generational shame-based hard rock band.
8/14/15