8PM Doors  ✖ Hall ✖ $12 GA; $50 Table for 2; $100 Table for 4 ✖ 21+
Purchase your tickets in advance!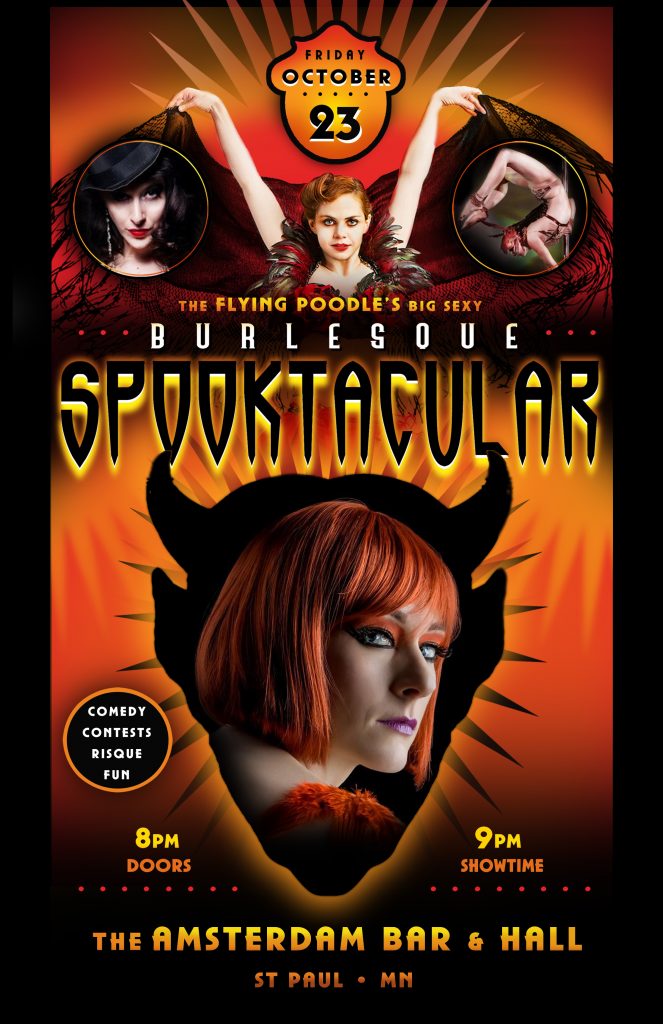 This Halloween we bring to the Amsterdam stage all the camp and glamour that embraces the terrifyingly beautiful and ridiculously risque in a show we are proud to show case for the first time in 2 cities – Rochester, MN and St. Paul, MN for the Halloween season this 2015!
Our 2015 Spooktacular headliners will bring NEW acts that have been making national waves with their titillating TEASE & CIRCUS ease!  Be ready for a night to remember, folks!
We have San Francisco's premiere circus pole talent taking the stage for the first time this year, coming back to her roots in MN to play as she effortlessly swings her 6′ 2″ frame around a pole like a leaf blowing with the winds of our changing seasons with all the strength and skill never seen before on the Amsterdam stage.
If that wasn't enough – we have Lady Jack and Eva La Feva who have been called out as Chicago burlesque superstars and who showcase their talents on many Chicago stages including the swanky stage of Untitled that hollers back to times of old with their late night shows of decadence and burlesque.  Together this duet makes up part of the new FRINGE FACTOR that has been taking the city by storm.  Part neo – part dramatic performance art – partly the HOTTEST vintage burlesque you have seen, they are a force to be reckoned with. Lady Jack and Eva la Feva have acts that make you laugh until you cry and subsequently drool with anticipation as they spin up dervishes as they dance across the floor.  Be warned, these dames got plenty of game.
If these acts won't win you over with their red hot talents, local burlesque sweetheart Musette the Mistress of Mischief's camp and comedic emceeing and all the rest of this dynamic cast from the TWIN CITIES immense talent will!  We aim to tease with all the decadent holiday flair and scare you can handle!  Happy Halloween!