8PM doors ✖ Hall ✖ $15 ADV/ $17 DOS ✖ 18+

Legendary author Alan Watts believed we as humans need to go completely out of our minds to come fully into our emotions, as he so famously discussed in his book, Out of Your Mind. Self-proclaimed sexistential alt-pop duo RKCB draw upon this concept for their forthcoming music (check "Alone with You, Pt. 2"), which throbs with enlightenment about the life and death nature of love, our relationship with consciousness and even global warming.
Finding creative liberation during a trip to London, and having flipped through the pages of Watts' insightful ruminations, bandmates Riley Knapp and Casey Barth felt the energy between them monumentally shift. "It was like this big veil had been lifted, and we both felt the energy," says Barth. "Watts' book really opened up a lot, philosophically and emotionally, that we wanted to explore in the music."
Knapp and Barth's destinies would become forever entwined during their music studies at University of Southern California. It was during a masterclass given by hip-hop performer and producer Young Guru that their worlds opened up, and they were able to see inside each other's work. Their subsequent first creative session together gave birth to a song called "Comatose," a cut off their 2015 debut EP, Short Films, which gave way to a yin-yang friendship. "Figuring this process out has been the most exciting part about this journey and is what gives us faith that we have a lot more to do and say," says Knapp.
Born and raised in the City of Angels, soulful producer/vocalist/instrumentalist Shoffy champions electronic-based Pop/R&B fused with guitar and smooth vocals. By day, Shoffy, real name Alex Shofler, worked as a financial analyst until recently — now, he's pursuing music full-time. Writing and producing since age 14, Shofler has jumped from different projects and bands, until embarking on his solo career.
His first wide release under the Shoffy moniker came in November 2015 with single "Takes My Body Higher" ft. Lincoln Jesser off his EP conversations in the a.m. The single spread virally and reached 33 million plays (and growing) on Spotify and 13 Million video plays on YouTube. Achieving this organically without any promotion, "Take My Body Higher" also claimed a spot on the Billboard Hot Dance/Electronic Charts for 12 weeks, peaking at #19.
Following this success, Shofler released a new EP, somewhere between nostalgia and paradise, leading with "Home," a track he wrote and co-produced. All of the songs on the seven-track EP are written, and most produced or co-produced, by Shofler, and feature him playing various instruments throughout. Standout cuts include "Home" and "Movin On" — a beautiful and simple testimony to a love lost, written originally with only his guitar and vocal. somewhere between nostalgia and paradise also features collaborations with fellow hype-worthy peers including Jack LNDN on "Better Off Here," TA?CHES on "Eat Your Friends," and RKCB as co-producer and co-writer on "Home."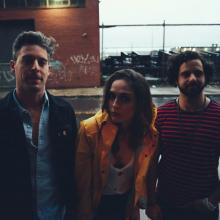 We are a band from New York City who is always writing new music, mostly in tiny rooms with traffic light views. Our intention is to bring these sounds to a much bigger space, preferably a stage, with lights, where the living really happens. Ya.. the live show is where it can get weird; never normal. Who needs normal? Isn't that what we're all trying to escape?