5PM ✖ Hall ✖ $30 ✖ AA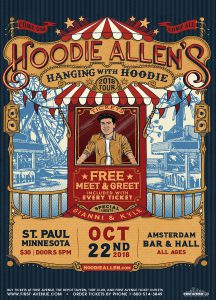 Steven Markowitz, known by his stage name Hoodie Allen, is an independent American hip hop recording artist. After graduating from the University of Pennsylvania, he began working at Google before ultimately quitting to pursue a music career full-time.
In 2012, Hoodie released his first official EP titled All American which debuted at No. 10 on the Billboard 200. A follow-up mixtape, Crew Cuts, was released the next year along with an acoustic version of All American. In October 2014, Hoodie officially released his debut studio album, People Keep Talking which was successful with first week sales of over 30,000 along with a debut position of No. 8 on the Billboard 200. Hoodie's critically acclaimed sophomore project Happy Camper dropped in January 2016, which debuted at #1 on the Billboard Rap/Hip-Hop Chart and #1 on the Independent Albums Chart. Now, he just released his much anticipated third studio album The Hype on September 29, 2017 with Kobalt Music Recordings.
In his own words: I began writing for The Hype in August of 2016, in my hometown of New York City. The main inspiration driving the force was me taking a look at cyclical nature of being an artist and realizing that it's not only creative pursuits and passions that come up the highest of highs and lowest of lows, but that it also extends into our personal lives and our relationships. So for me The Hype starts somewhere after my first break out album. The day after my music was finally getting recognized by people outside of my immediate circle, the birth of the hype in essence. Most stories start at the bottom and the end at the top. This story tries to examine what we all really feel which is that sometimes we're running circles within our own life's pursuits.
Hoodie Allen has toured with Fall Out Boy and Wiz Khalifa on The Boys of Zummer Tour, and previously headlined all over the US, Europe, Canada and Australia. Hoodie has been featured in Billboard, Rolling Stone, MTV, VH1, Newsday, The New York Post, and countless others. He has also been on Conan, Fuse and MTV.