5pm ✖ Hall ✖ All Ages ✖ $10 ADV/$12 DOS
Purchase your tickets in advance!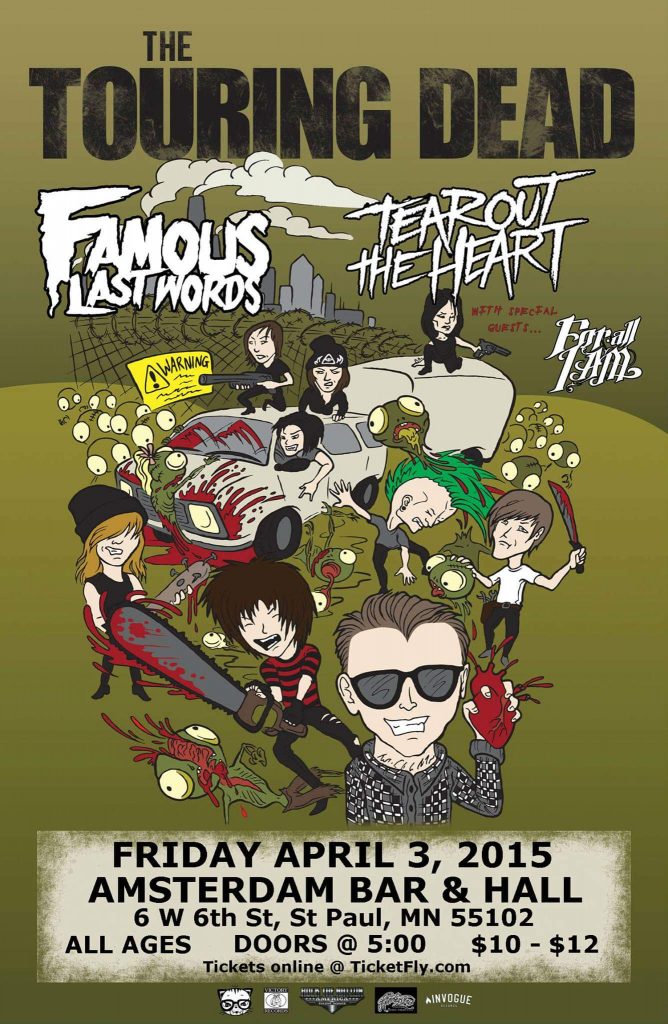 Famous Last Words (formerly known as A Walking Memory) is a post-hardcore band from Petoskey, Michigan. The band is currently signed to InVogue Records.
Most people these days are scared to truly live because of what others say, but we believe in individuality and just being yourself," states For All I Am frontman Aria Yavarinejad. "For All I Am is about being strong, not letting others put you down for any reason, and holding onto what you believe in for yourself."
Not wasting anytime in sharing their positive message and showing the world what they're capable of, the freshly formed Chicago, IL based quintet has already self-released their debut EP Lone Wolf. The five-track album was released on November 1st, 2011 – the same day that the band announced their signing to Albany, NY-based indie label, Equal Vision Records.
Lone Wolf was recorded with up and coming producer Nicholas Scott at NS Studio in Muskegon, MI and highlights For All I Am's incredible ability to flawlessly juxtapose and intertwine the dynamic, bonecrushing explosions of Yavarinejad's screams with the haunting melodies of guitarist/clean vocalist Chase Wagster.
The EP carries listeners through a powerful, passionate journey of broken friendships, life-changing events and the loss of a loved one, and the band's dominant stance against the injustices and apathy present in society today.
"The shaken minds of our learning experiences through our society led us to the creation of [the song] "Injustice", Yavarinejad explains. "It became evident at a young age that the future is dissimulating; we took the time to show our perspective in relation to our experiences…it's a calling to our generation about the new direction that we are heading." He continues, "…our generation is in jeopardy because of peer pressure and blindness. We want to show the world that you can be yourself and accomplish anything your heart desires if you put the work into it."
For All I Am has implemented their beliefs on a personal level, by stepping out of the mold of what it means to be a band today and putting aside any barriers between the band and fans. Living by their words and putting their ideals to practice, the band encourages constant communication with fans and consistently utilizes creative collaborations that allow their fans' voices to be heard.
Prior to entering NS Studios, For All I Am shared song demos directly with fans, allowing them a chance to be directly involved in the writing process by writing reviews on their thoughts and suggestions for final recordings. The band quickly received thousands of constructive comments – far surpassing their expectations of the project – and took the input into consideration in the studio while recording Lone Wolf.
Fans again showed their relentless support of For All I Am, by raising over $7000 in just 46 days for them through the Kickstarter platform, allowing the band to purchase a van and trailer to kick off their touring career. In exchange for the donations, For All I Am showed their immeasurable gratitude by offering backers a wide variety of items including free music downloads, exclusive merchandise, personalized 'thank yous' in the Lone Wolf CD booklet, guest list to all upcoming shows (for life) and much more.
Taken aback by the overwhelming amount of support fans have shown so early on in their career, For All I Am is charged up and ready to prove themselves on the road. And that they will do – on their first full-US tour, supporting labelmates and hardcore heavyweights We Came As Romans, on the Take A Picture It Will Last Longer Tour, along with Falling In Reverse, Sleeping With Sirens, and Attila.
Yavarinejad expounds,"We want to show the world that you can be yourself and accomplish anything your heart desires if you put the work into it. Everything we deal with in our lives gets expressed through our music. Every song has a meaning or a struggle that our band can share and hopefully the fans can share.
4/3/15