6PM Doors ✖ Hall ✖ $25 ✖ 18+
Purchase your tickets in advance!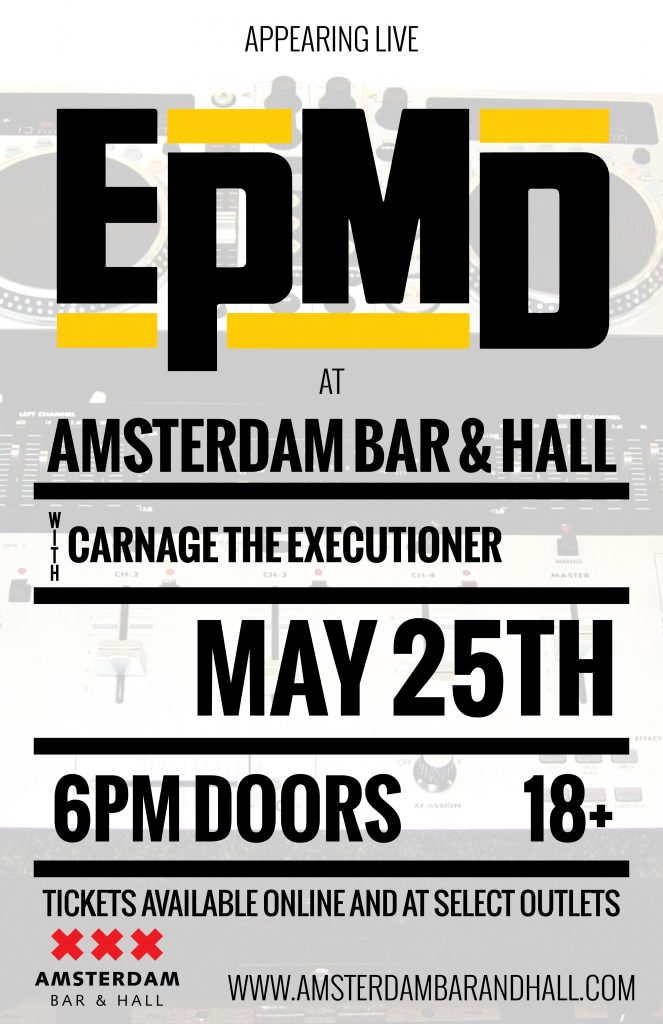 On the surface, the sample-reliant productions and monotone rapping styles of Erick Sermon and Parrish Smith had little to recommend them, but the duo's recordings as EPMD were among the best in hip-hop's underground during the late '80s and early '90s. Over the course of four albums (from the 1988 classic Strictly Business to 1992's Business Never Personal), the group rarely varied from two themes: dissing sucker MCs and recounting sexual exploits. A closer look, however, revealed that the duo's rhymes were nothing less than incredible, simply undervalued due to their lack of intonation during delivery. EPMD also had a feel for a good groove, and created numerous hip-hop classics, including "It's My Thing," "You Gots to Chill," "Get the Bozack," "Strictly Business," and "Rampage."
Though EPMD's hardcore style influenced the urban-oriented gangsta '90s, Erick Sermon (aka E Double E; b. Nov. 25, 1968) and Parrish Smith (aka Pee MD; b. May 13, 1968) were both raised in the Long Island suburb of Brentwood. They moved into rap separately, with Smith DJing for Rock Squad on a single for the Tommy Boy label. After coming together in 1987 — at which time they named themselves EPMD, short for "Erick and Parrish Making Dollars" — they recorded their debut, "It's My Thing," in three hours. The single was later licensed to Chrysalis, and EPMD signed to Sleeping Bag/Fresh Records for the debut album Strictly Business. Propelled by several strong singles (including "You Gots to Chill" and the title track), the album eventually went gold, as did 1989's follow-up, Unfinished Business. Signed to Def Jam by the beginning of the '90s, EPMD returned in 1990 with Business as Usual and Business Never Personal two years later.
By 1992, they presided over an extended family dubbed the Hit Squad, including Redman, K-Solo, and Das EFX. The duo split later that year, however, prompting solo careers for each member; Sermon debuted in 1993 with No Pressure, and Smith made his statement on 1994's Shade Business. The duo then re-formed EPMD in 1997, recording a strong comeback LP named Back in Business. Out of Business followed in 1999, but the rappers continued pursuing their own projects through the late '90s and early 2000s. Both released solo albums, and Sermon partnered with Redman and Keith Murray as part of the Def Squad supergroup. Nevertheless, they also found time to continue performing together as EPMD, and 2008 saw them returning to the studio for We Mean Business.
5/25/15