6PM ✖ Hall ✖ $20 ADV / $25 DOOR ✖ AA
THIS SHOW HAS BEEN MOVED TO THE CEDAR CULTURAL CENTER. Tickets purchased for the original show at the Amsterdam Bar & Hall will be honored.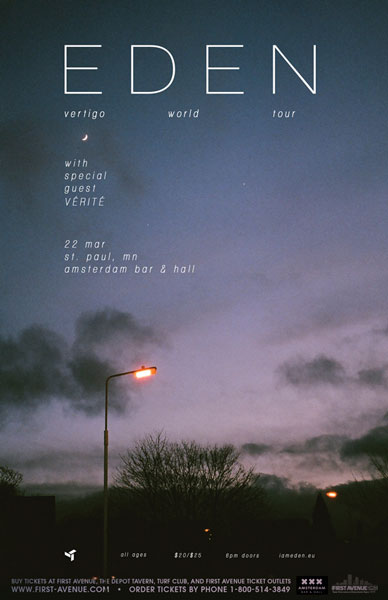 In the early stages of finding his voice as an artist, singer/songwriter/producer EDEN made only one rule for himself: "I could do whatever I wanted, as long as it didn't sound like anything I'd ever heard," says the Dublin-based 21-year-old otherwise known as Jonathon Ng. With his upcoming EP 'i think you think too much of me,' EDEN channels that passion for innovation into a guitar-heavy take on electronic pop and proves himself an artist of uncompromising originality.
On 'i think you think too much of me,' EDEN presents a four-song series that perfectly embodies his confessional yet nervy sensibilities: "sex," "drugs," "and," "rock & roll." "The EP's really about expectations, and how things only mean as much as you want them to," says Ng. "There's also this idea of how, underneath something superficial, there can be something real — it all just depends on your outlook." Along with leading the listener through a journey-like experience, complete with interlacing emotional arcs, that concept-driven artistry serves a deeper purpose for EDEN.
Hailed by Consequence of Sound as a "vulnerable synth-tinted pop track that's about so much more than what's happening between the sheets," 'i think you think too much of me' lead single "sex" earned more than 2.5 million listens across platforms within just a few weeks of its release. The hooky and hypnotic track also won the adoration of Lorde, who posted on EDEN's Facebook wall a few days after its premiere. "i love 'sex' a lot. it does something very simple and intense to my brain," she wrote, then praised the song as aptly "messy and emotional and twitchy."
Made alone in his bedroom, 'i think you think too much of me' shows a poetic candidness inspired by such artists as Frank Ocean. "I tend to sing about a lot of stuff that I'd never actually talk about with anyone. That's just my way of dealing with everything." On 'i think you think too much of me,' that raw emotionality imbues the heartsick urgency of "sex," the woozy desperation of "drugs," and the stark fragility of "and." And on the epic "rock & roll," EDEN brilliantly merges jagged guitar riffs, heady beats, and feverish meditations on ambition or lack thereof ("I got ten weeks of talking bullshit on repeat 'til I'm burnt out and disappear"), before the song sweetly dissolves into distorted movie dialogue.
Throughout 'i think you think too much of me,' EDEN achieves a sonic expansiveness sourced partly from what he describes as "this ridiculous to-and- fro of musical tastes I've gone through in my life," pointing out that past phases have included everything from boy bands to Guns N' Roses to screamo to Eminem. Growing up in Dublin, Ng learned to play violin at age seven at the urging of his parents and — through that classical training — discovered his natural musicality. "After that I started playing the piano at our house, and then later I borrowed my auntie and uncle's guitar and taught myself to play that too," he says. "I still can't read piano or guitar sheet music, but I just had this knack for picking up instruments and figuring out chords." By his early teens, music had become Ng's main obsession. "My two goals in life were to be an astronaut or a musician, and somehow being a musician seemed like less of a longshot."
Ng later joined in several bands with friends, but felt frustrated by his lack of creative control. Then, after witnessing the success of such artists such as Skrillex and Deadmau5, he realized he could make music without a band, by himself on the computer. At age 16 he began creating electronic music, experimenting with production and eventually releasing songs as The Eden Project. The solo approach suited his prolific nature, and in three years he turned out nearly 100 tracks. "Once I get an initial idea, I know exactly what the completed song is going to sound like," he notes. "Basically everything I do is out of instinct. I get a feeling and I run with it."
As his music evolved and took on a more melodic and vocal-centric aesthetic, Ng rechristened himself as EDEN and newly embraced his pop inclinations. In August 2015 EDEN made his debut with 'End Credits' and — despite making zero effort to promote it — soon found the EP gaining major attention and ultimately amassing more than 95 million streams as well as selling out his first US tour. That momentum continued to build as EDEN released a cover of Michael Jackson's "Billie Jean" in November 2015, a soulfully cinematic track that hit #1 on HypeM's popular chart and racked up a million cumulative streams in one week.
With a second sold out tour across North America and Europe under his belt, EDEN remains guided by a restless creativity. "I'm not one of those people who could create 'sex v2' and be happy with that — it's progress or nothing," he says. "I very much write from how I'm thinking or feeling right now, so if I do the same thing twice that's kind of worrying. You need to constantly progress as a human, let alone as a musician." And for EDEN, that evolution is closely linked to personal catharsis. "I'm just trying to make something that feels very real and honest to me," he says. "And if it helps people that's great, but I'm not really thinking about that when I'm writing. Making something that I can stand by forever, without caring about what anyone else thinks of it — for me that's always the goal."