8PM Doors ✖ Hall ✖ $10ADV/$12DOS✖ 18+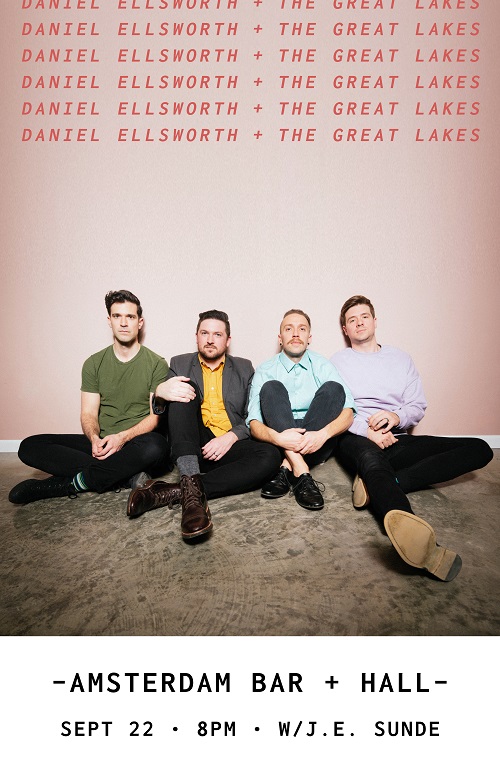 "…you should get excited about Daniel Ellsworth & The Great Lakes… Blending synth-pop and indie rock with sheer energy, this is a Nashville band that bucks the town's hipster cowboy stereotype." – Esquire Magazine
——————————————
Formed in 2010 in Nashville, Tennessee, Daniel Ellsworth & The Great Lakes released their first full-length studio album, Civilized Man, in 2011. Recorded and co-produced with Mark Nevers (Andrew Bird, Yo La Tengo, Silver Jews), Civilized Man went on to be listed in the top 100 albums of 2011 by Amazon, with the pop-rock single "Shoe Fits" debuting at number seven on Amazons top 100 songs of 2011.
Last year, Daniel Ellsworth & The Great Lakes was named one of the 15 Bands to Watch by Esquire Magazine. The band's sophomore album, Kid Tiger, recorded at Sputnik Sound by Vance Powell (Jack White, The White Stripes, The Raconteurs), was released in March of 2014.
The band released two singles from Kid Tiger: the driving pop anthem "Sun Goes Out" with accompanying music video premiered by Esquire Magazine, and the beat-driven "Phantoms" with accompanying music video premiered by Conan O'Brien's Team Coco.
They went on in 2014 to perform at Live on the Green, SXSW, Mile of Music Festival, and CMJ Music Marathon, and their single "Sun Goes Out" was one of the top 50 most played songs of the year on Nashville's Lightning 100.
Now, Daniel Ellsworth & The Great Lakes are gearing up for the early 2016 release of their new EP, Bemidji. Written mostly at a small cabin in Bemidji, Minnesota, this EP is a companion piece to Kid Tiger of sorts. Also recorded by Vance Powell, Bemidji sets out to capture the same live energy and raw emotion found on that album. The first single, "Always/Never," releases worldwide on Friday, November 13th.
with J.E. Sunde