7PM Doors ✖ Hall ✖ $20ADV / $25 DOS ✖ 18+
with Rank Strangers

Tickets also available at Amsterdam Bar & Hall, Electric Fetus Mpls, 331 Club, Agharta Records and Treehouse Records.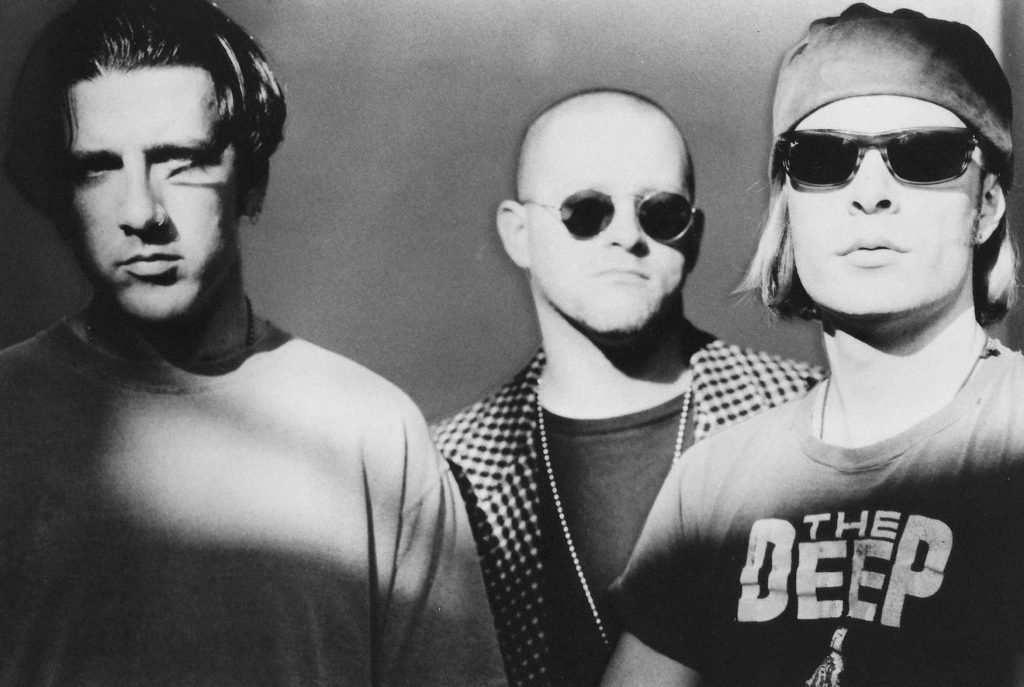 Since the release of dada's groundbreaking 1992 debut Puzzle, the trio has created an array of songs boasting progressive rock musicianship, dazzling vocal harmonies and melodic power pop layered with inspired psychedelic and experimental rock impulses. Adding to the trio's groundbreaking line of attack are the marathon-length shows that deliver on the promise that every performance is the only one of its kind.
Two decades after the Los Angeles outfit embarked on its singular journey, singer-guitarist Michael Gurley, singer-bassist Joie Calio and drummer Phil Leavitt are celebrating dada's 25th anniversary with plans for a national tour deemed the "dada Forever Tour" in 2017.
"dada is about digging into our roots, examining and celebrating it." Says Calio
Puzzle was released on September 8, 1992, and it didn't take long for the band's sonic imprint to find an audience. The album's first single "Dizz Knee Land" found widespread airplay on alternative and mainstream rock outlets cracking the Top 5 on the Modern Rock Single's chart and pushing the album's sales to over 1,000,000 worldwide. The band was soon touring around the globe, opening for the celebrated likes of Crowded House, Depeche Mode and Sting.
"People always ask, 'Do you still talk to each other after all these years?' So that's really why I wanted to commemorate it because no matter the size of the career if you can stick together and still have a desire to play music together you have accomplished something" explains Leavitt.
Dada was founded when Gurley and Calio began writing songs and performing as an acoustic duo in the late '80s. But from the beginning, their approach was unique amidst the onslaught of '90s bands featuring lead singers and mostly generic backing bands.
"Joie and I were both lead singers. But we really found quickly that harmonies were going to be a big strength for us," recalled Gurley, noting both he and Calio are fans of Simon & Garfunkel's pioneering harmonies.
Gurley noted that once they recruited Leavitt, they were able to blend the thunderous power of trios such as Cream with the artful harmony-minded songcraft of Simon & Garfunkel.
The success of Puzzle was followed in 1994 by American Highway Flower, featuring the ambitious "Ask the Dust" and astounding "Feet to the Sun," dada has gone on to create a magnificent discography featuring a half-dozen full-length albums and an EP. The trio has also issued a number of solo efforts and offshoot projects along the way exploring a range of styles including folk, blues, jazz and rock. Gurley and Leavitt were both members of Butterfly Jones while dada was on hiatus in the early '00s; Calio has released several solo discs and with X Levitation Cult. Mike Gurley and the Nightcaps are a popular jazz group in Southern California.
Additionally, Leavitt has stepped out from behind the drum set as lead singer and Calio is playing guitar in 7Horse, a psychedelic blues project that has released 3 albums to date. Bringing a stripped-down approach, 7Horse cuts to the bone and identifies core feelings and phrases in their music. Their latest effort Livin' In A Bitch of A World was released earlier this year. Their debut album Let The 7Horse Run spawned the hit song Meth Lab Zoso Sticker, which was chosen by Martin Scorsese for his film The Wolf of Wall Street. Since then, it's had over 1.2 million views, 5.5 million streams and over 100,000 downloads.
Long-time and new fans of dada all have one thing in common; they are passionate about the band and have a deep connection with its three members.