6PM ✖ Bar ✖ Free ✖ All Ages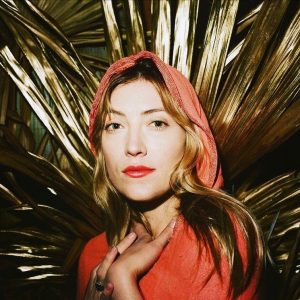 On her debut album Lake Tear of the Clouds, Los Angeles-based singer/songwriter Cornelia Murr taps into the bucolic spirit of the Hudson Valley in upper New York State. Working with producer Jim James of My Morning Jacket, Murr conjures a hazy blend of folk and cosmic soul music, her voice floating over ghostly soundscapes that bring to mind the fantasias of Broadcast, Stereolab's most pastoral moments, and the spooky romance of Beach House.
Murr was born in London and resides in California as a dual citizen, but spent much of her childhood moving through the United States, from Colorado to Massachusetts, California to New York City and upstate New York. It's the latter locale that most informs the spiritual geography of the album, which invokes the cyclical journey of water from the highest point in the Adirondack Mountains to the valley below and out to sea. Like that water, Murr's voice flows with a liquid grace.
Though she's collaborated with other musicians, including Elvis Perkins, appearing on his 2015 LP I Aubade, and songwriter/actress Lola Kirke (Mozart in the Jungle), Murr has long written and recorded her own compositions. While in the past she brought her songs to life via obsessively detailed, harmony-laced demos recorded to her iPhone, the new album represents the fullest, and most public, expression of her songcraft.
Recorded primarily at Palomino Sound, the record showcases Murr on vocals, Omnichord, mellotron, pocket piano, electric/acoustic guitars, whistles, and percussion. She's accompanied by contributions from James; piano and keys by Bo Koster of My Morning Jacket; Lola Kirke on vocals; Naomi Greene on vocals and electric harp. Bassist Shane McKillop and drummer Justin Flint, both of Amo Amo, comprise the rhythm section. Spiritual support, Murr notes, was provided by Palomino Sound studio dog Frita, who earns a special thanks in the liner notes alongside Kirke. Originally intended as a four-song EP, Murr found herself with a wealth of songs, many of which she'd been workshopping for years. Encouraged by James, whom she calls "the perfect producer," Murr realized she had a full-length album on her hands.
Often sounding like she could be transmitting from some inter-dimensional sock hop or theTwin Peaks Roadhouse, Murr's songs are transfixing and moving. From the Cocteau Twins-eque "Tokyo Kyoto" to the girl group evoking "Who Am I To Tell You" to the Old Weird American folk of closer "You Got Me," Murr alchemizes personal experiences, reflecting on the need to claim personal space, and translating her inner reserve to listeners. Rounding out the album is a cover of Yoko Ono's 1973 feminist anthem, "I Have a Woman Inside My Soul."
Murr has long kept her songs close – shielding them from "roommates and lovers" – but Lake Tear of the Clouds represents her desire to no longer hide herself or her music away. Both intimate and psychedelic, the album explores womanhood and the personal revelations that accompany maturing into oneself. "I've spent so long/In a silent space scream/Now I've forgotten how it feels/To know someone's listening," Murr sings on "Billions." But Lake Tear of the Clouds presents Murr's voice as one well worth hearing.