7PM ✖ Hall ✖ Free ✖ AA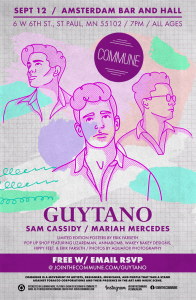 Commune Wednesdays + Amsterdam Bar and Hall will welcome an impressive lineup of local Minnesotans including Mariah Mercedes, Sam Cassidy, and headliner, Guytano. 
Mariah Mercedes is a Pop/R&B singer and songwriter from the Twin Cities. She began perfecting her craft when she was 22, combining variations of R&B and soul with her singer/songwriter roots. Her vocal tunes are comparable to the likes of Norah Jones, Feist, and Emily King. She explores coming of age themes in many of her songs, all while delivering smooth and soothing vocals accompanied by her guitar.
Sam Cassidy is a Minneapolis is a singer/songwriter and cabinetmaker by trade. His first album, Debts, was released in 2014 after nearly two years of hard work and collaboration. The collection of songs are a culmination of his experiences of struggle, happiness, work, and contentment. He's devoted to telling the stories of ordinary hardworking people and encapsulating the blue-collar craft.
Lastly, the headliner, Guytano, is an alt-rock band from Sartell, MN. Comprised of brothers Grant and Eddie Hamilton, and Isacc Hesse, the trio have been discovering and practicing their sound since they were 10 years old. Their sound and style are reminiscent of old Coldplay and the 1975 vibes. They have nearly 300,000 plays on their single "Fall Back in Your Arms" off their 2016 album, I Am Inside My Body. They are considered as one of Minnesota's up-and-coming alternative bands to date.
The event will also feature poster art by Erik Farseth, a Minnesota-based writer and visual artist whose works of art are influenced by his background in printmaking, zine-making, and photo collage.
Local vendors include: 
Lizardman Art, whose clients have roots in the music industry, performing arts, craft brewing, labor and justice organizations. He's also exhibited original art in dozens of venues.
AnnaBomb Art, who paints large-scale acrylic paintings, with explosive neon colors. Her artwork explores many different themes including; mental health, horror, pop culture, and street art.
Hippy Feet,  who donates a pair of socks for every pair sold. Donation pairs are made to specifically to address the needs of a person experiencing homelessness.
And Wakey Bakey Designs, who make funky mugs and sell trendy vintage wear, will also be in attendance.
Join us September 12th for a night of celebrating talented artists and their commitment to practicing their craft free of tobacco. Entry to the event is free with RSVP. See you there!