7PM Doors ✖ Hall ✖ $7 ADV/$10 DOS ✖ 18+
Purchase your tickets in advance!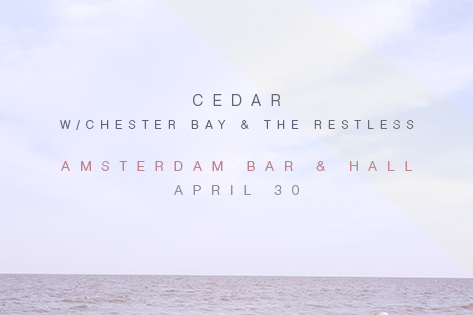 Cedar (formerly Cedar Avenue) emphasizes the joy of creating music together. Above all other accolades, their goal is fun. They want to make you smile. And dance. Their earliest endeavors aimed to fit an industry formula. However, after experiencing success with major placements on ABC and playing with a number of national acts, the band of Minneapolisians decided they should be writing music for themselves instead of a blog editor or phantom music executive, so they ditched the pop equation for something a bit more primal, and the result is a new sound, new songs, and a new energy, culminating in their latest release: Siren.
Chester Bay has been devouring the Midwest Music Scene like a raging torrent, leaving nothing but a trail of satisfied concert-goers in their wake. They've been described by the Minnesota Star Tribune as "sheer musical ability" and by the Rochester Post Bulletin as "unique" and "eclectic".
Thanks in large part to their "ska-tinged sound" (Twin Cities Music Blog), Chester Bay won a National Competition sponsored by Rhapsody Music and Land Shark Lager in 2010. Immediately following their win, the band released their debut full-length album: "Get Free" through ReapAndSow Entertainment. In a full page editorial, Rolling Stone Magazine called their first release a "bluesy blend of hook-laden tunes", which also describes their signature sound.
Chester Bay is no stranger to the stage, sporting a tour history of more than 400 shows in the last three years. Since their inception in 2005, Chester Bay has made appearances at some of the country's biggest music festivals including Wisconsin's Summer Fest and Minnesota's Basilica Block Party. They've headlined several shows and supported major acts including: The Avett Brothers, Eric Church, Los Lobos, Fitz and the Tantrums, and The Bodeans.
A quartet of skilled musicians; the band is well-versed in genres including: rock, reggae, blues, ska, and folk. These influences shine through the energetic live show that the band has become known for.
In April of 2013, Chester Bay will release their highly anticipated "Changes with the Midwest Moon" album, which defies the concept of genre and presses into the evolution that the national music scene is amidst.
The Restless
It's three in the morning and you are still awake.
You'd call it insomnia but in all honesty, your mind just wanders. For those who find this scene familiar, you are not alone. The Restless is more than just music… it's a conversation. One that says, "We are here, whenever you need."
The Restless is a pop/rock band based out of Minneapolis, MN and is made up of an acoustic ensemble. This band aims to push the boundaries of modern music with a mission to strengthen the bond between music and meaning.