7:30PM Doors ✖ Hall ✖ $15 ADV/$20 DOOR ✖ 18+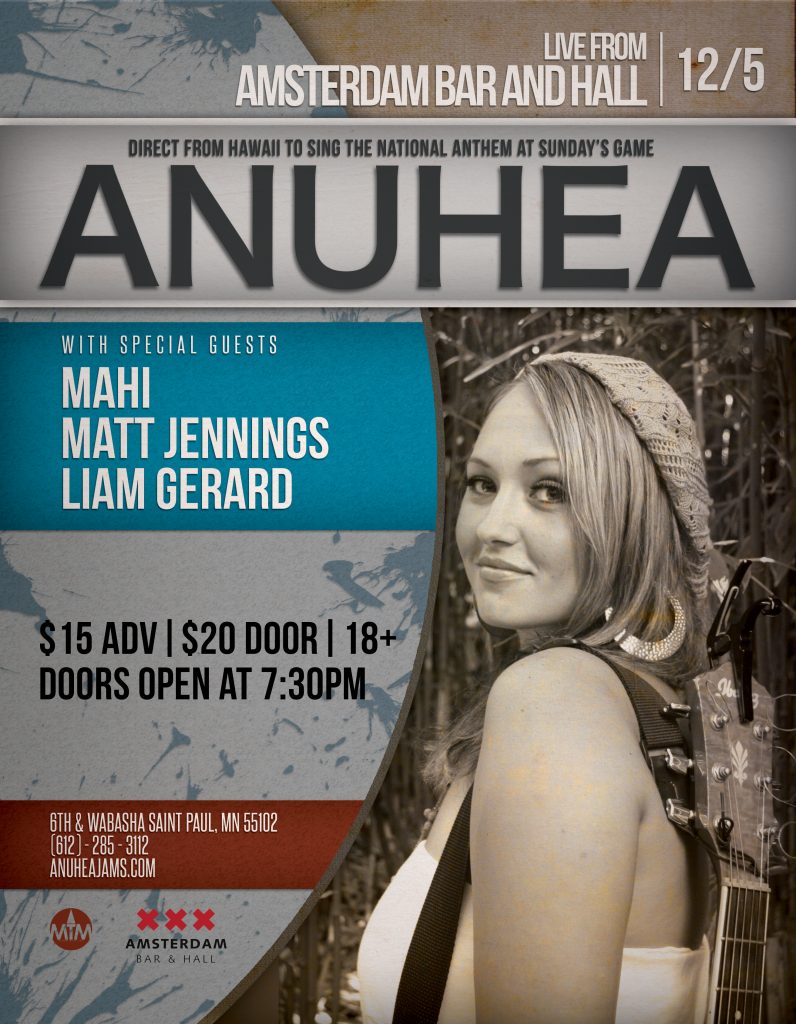 (KONA, HI) Hawaiian Pop star ANUHEA, a young, iconic singer/songwriter/performer en route to meteoric music industry fame has also become one of Hawaii's most popular exports.
ANUHEA has enjoyed several iTunes & Radio Hit singles including "SIMPLE LOVE SONG" and "Higher Than The Clouds". A major presence on the Islands with multiple hit songs being played in heavy rotation hourly, along with favorable critical comparison to fellow islanders Jack Johnson and Bruno Mars, ANUHEA also enjoys the distinction of being specifically requested to perform by his Holiness, the Dalai Lama.
Warren Wyatt of World Sound, the exclusive global representative of ANUHEA, comments: "She's got the magic combination to become something very special. I've got plenty of gold and platinum records on my walls, but Anuhea will be the biggest success story of my career."
ANUHEA, who recently headlined sold-out North American venues in cities across the country including NYC, Los Angeles, San Diego, Seattle, Portland, Chicago and many more. She has also played NFL Halftime shows including the Pro Bowl and appeared on many music festivals including Wakarusa, Outside Lands and the Kokua Festival.
ANUHEA has also performed with a wide cross-section of top acts including Bruno Mars, Jack Johnson, Al Green, FloRida, Ziggy Marley, Katchafire, Trevor Hall, SOJA, Mishka, Donovan Frankenreiter and Taj Mahal, and is the recipient of two wins at the Na Hoku Hanohano Awards for "Contemporary Album of the Year" and "Most Promising Artist."
Her video for Simple Love Song has Millions of Views and her video for Higher Than The Clouds is well over a million views, ANUHEA'S total YouTube Views are over 7 Million.
ANUHEA has had over 500,000 digital singles downloaded from the US iTunes store alone and sold over 150,000 full albums to date. She has charted TOP TEN on the iTunes POP, R&B & Reggae Charts and TOP TEN on the Billboard Heatseakers & World Music Charts. ANUHEA was designated a Discovery Download and Artist to Watch along with one of the Best New Artists by iTunes and was recently named one of the Top Dozen POP Albums of the Year and Song of The Week by GOOGLE.
ANUHEA has well over 140,000 Facebook fans and over 250,000 social media fans across Facebook, Twitter and Instagram.
ANUHEA is drawing increasingly large crowds and selling out most venues across the USA, and her fan base continues to multiply, drawn by an organic, pop-driven sweetness and the unmistakable Hawaiian influence complete with ukulele.
AHUHEA is the most played female artist on the radio in Hawaii and arguably the most famous female artist to ever come from the state of Hawaii, speaks fluent Hawaiian and is involved with many charitable organizations throughout the Hawaiian Islands and Pacific including Mana Maoli and Jack Johnson's Kokua Foundation.
With special guests Mahi, Matt Jennings, and Liam Gerard