7PM Door ✖ Hall ✖ $17 ADV/ $20 DOS ✖ 18+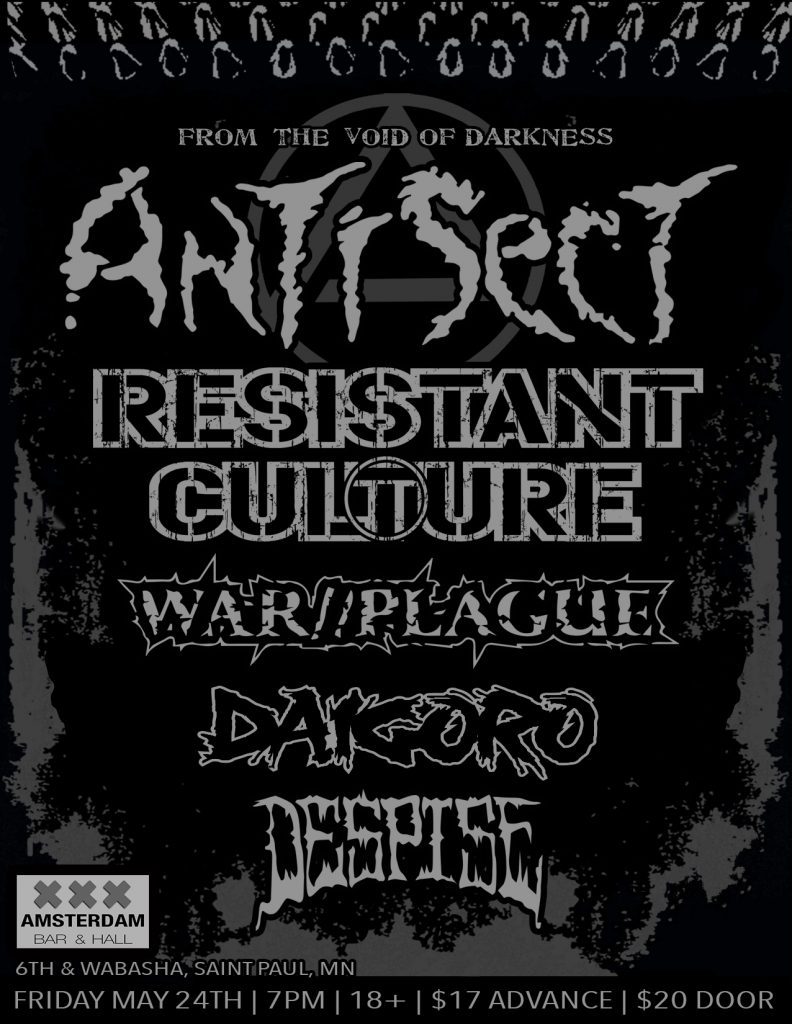 Antisect
Formed in 1982 in Daventry, Northamptonshire, UK, their debut album, In Darkness There is No Choice, was released in 1983. 1985's follow up EP, "Out From The Void" has often been cited as a game changer amongst their genre for fusing a raw punk rock style with elements of metal. Antisect are a significant band in the timeline of hardcore punk music, said to have been a major influence upon "black-clad, politically charged punks over the last 30 years". The band address issues including animal rights and social justice, communicating their ideas to a largely punk rock audience, and were among the instigators of the squat venue scene in the mid to late 1980s. During this time members lived the lifestyle of being either on the road or part of the vibrant London squat scene of the time. They toured extensively both in the UK and Europe and though originally splitting up in 1987, the band reformed in May 2011.
Facebook: https://m.facebook.com/Antisect-100288986727576/
YouTube: https://youtu.be/WyAeNLJrFf4
__________________________
Resistant Culture
Headquartered in the Pacific Northwest, Resistant Culture is an alchemical blend of extreme metal and punk that infuses folk/tribal elements. Their roots go deep into the soil of extreme metal and punk. Their album "Welcome to Reality" featured the late Jesse Pintado (RIP) of Napalm Death/Terrorizer on rhythm guitar. Terrorizer featured two Resistant Culture members (vocals and guitars) on "Hordes of Zombies". And vocals on "Darker Days Ahead". Resistant Culture is back in the studio finishing a full-length album entitled "Shamanic Healing" which combines soundscapes of blackened death grind d-beat with the philosophy of ancient mysticism. This epic album will be unearthed 2019.
Facebook: https://www.facebook.com/officialresistantculture/
YouTube: https://youtu.be/tdFMTAl0Q9k
__________________________________
Killer local support from:
WAR//PLAGUE – bringing socio/political rage and ferocity to their crust punk.
https://www.facebook.com/warplaguepunx/
DIAGORO – Fast, pissed off, heavy death grind!
https://daigoro-mn.bandcamp.com/album/infest-hive
DESPISE – female fronted blackened metallic d-beat crust
https://www.facebook.com/despisecrust/