7PM Doors ✖ Hall ✖ $18 ADV / $20 DOOR ✖ AA

Covid-19 Protocols: Proof of vaccination or negative Covid test from within 72 hours of the event is required to enter this show. Proof of vaccination may include a physical card or a photo of a complete vaccination card that matches the patron ID. Proof of a negative test may be a printed or digital test result that matches the patron ID. Children under 12, who cannot be vaccinated, can show a negative test to attend. People with a medical condition or closely held religious belief that prevents vaccination can attend with proof of a recent negative coronavirus test. Masking is required for all patrons when not eating or drinking, regardless of vaccination or testing status. Performers, who are all fully-vaccinated, will remove their masks upon entering the stage space to perform, and will put them back on when exiting.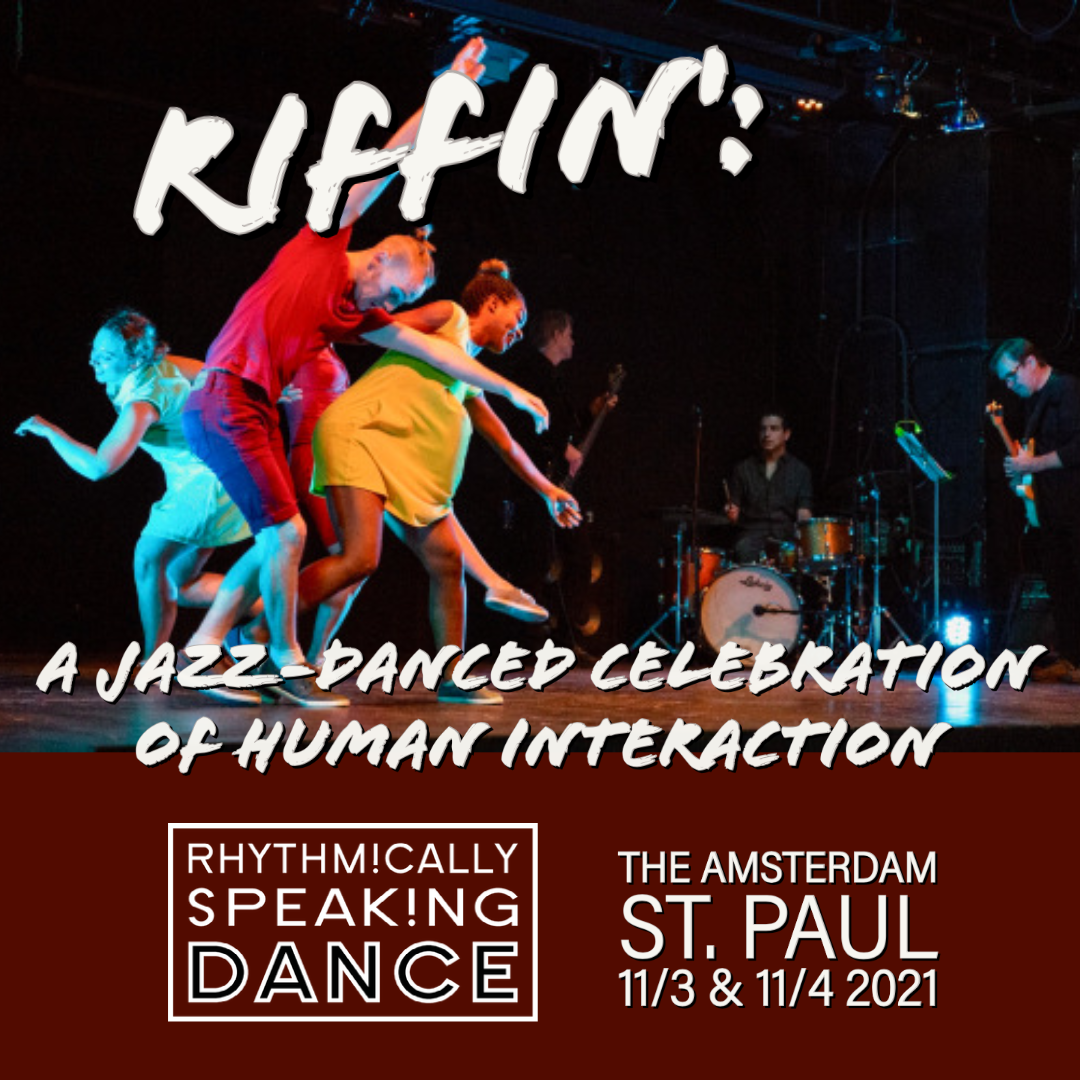 Rhythmically Speaking is thrilled to return to indoor live performance this November with Riffin': A Jazz-Danced Celebration of Human Interaction. They are glad to be back home at the Amsterdam, the same space that has hosted all three of their CHILL Charlie Brown Christmas Soundtrack productions. This time around, they'll be celebrating our shared human status as social animals: creatures that thrive off interacting with not only one another, but also complex rhythms and grooves! RS will use their signature groove, interaction and improvisation-based approach to jazz dance to enlivening this concept, along with a combo of live jazz musicians led by celebrated local guitarist and jazz composer Mike Lauer. Come share in live music and movement and the moment (and a pint and a meal while you are at it) with them and each other in a beloved physical, social space (remember those?)!
A 'riff' is an 'energetic, often improvised (verbal) outpouring,' 'a succinct or witty comment,' or a distinct variation or "take" on something' (Merriam Webster). Playing off this and a counterpoint to the idea of 'ripping off' or stealing, 'riffing off' is a jazz term meaning 'to borrow and elaborate on.' This is how we humans navigate our lives – improvising our way from one interaction with one another to the next as we weave our way through our life experiences. Consequently, 'riffing off one another' is also a major component of how RS approaches jazz dance – creating improvised interactions off each other, complex jazz music, word prompts, the environments in which we are dancing, etc.
At Riffin', audiences will be able to experience a taste of each of these ways of riffing, along with others! Company dancers performing in this production include Doug Hooker, Amy Jones, Sara Karimi, RS Artistic Director Erinn Liebhard, Kathleen Pender, John Surber and Crissy Tolson. This activity is made possible in part by the voters of Minnesota through a grant from the Minnesota State Arts Board, thanks to a legislative appropriation from the arts and cultural heritage fund.
About Rhythmically Speaking: Using the rhythm that is at our shared human core to groove together, Rhythmically Speaking cultivates vibrant, embodied human connection. Since our founding in 2008, we've gotten 350+ artists and thousands of audience members grooving together through our performance and education-based work, including presentation of 100 original and remounted works by local and visiting choreographers, and over 30 workshops and events. Find out more at www.rhythmicallyspeakingdance.org.