6:00PM Doors ✖ Hall ✖ $8.00 ADV / $10.00 DOS ✖ 18+
Tix coming soon!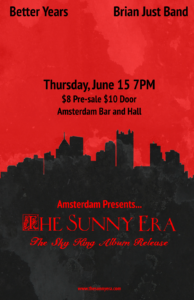 The Sunny Era creates music with an expansive dynamic range, both musically and emotionally. Featuring rich vocal harmonies and musical textures with tunes that include violin and pedal steel guitar.
Better Years is an Indie Rock/Dark Folk band from Minneapolis. The band features expansive guitar textures and soaring vocal harmonies. Better Years formed in 2016 after the members' former band, Disaster Bird, couldn't continue performing. The remaining members decided to press on and began writing songs with a darker mood. The result is expressive and stirring guitar-centric indie rock.
Brian Just Band is a Minneapolis 5-piece folk and psych-influenced pop group. Creating a sunny and elaborate sound, artfully incorporating '60s pop reminiscent of Nilsson and Donovan. Just's daydreamy, lazy-afternoon orchestrations are highlighted by his signature harmonies.