8:00PM Doors ✖ Hall ✖ $12.00 ✖ 21+

Peter, Paul and Jerry met each other in the 1st grade at St. Matthew's in Dorchester. They would endure 8 years of discipline together. Crazy, violent times forced many family's out of Dorchester..The twins moved to Kingston and Jerry to Weymouth. They kept in touch during their high school years and couldn't wait to get out of the suburbs and back into the city. Paul started a band with lifelong friend T.K, singer Skag, guitarist Sam Babbitt, and drummer Joey Olsen …they called themselves the Savage Beasties, a rocking band and the toast of the South Shore. This band would be the starting point for all of their future bands, T.K , and Paul moved to a loft at 8 Thayer st. in Boston. T.K co-founded "Spearhead Go" along with the gifted Barry Hall, B.C Kagan and Joey Olsen. Spearhead Go started playing out and recording, and they were the template that Paul would follow.
Paul enlisted his brother Pete, Jerry and Dan Shannon to start there own band. Pete and Jerry moved into the loft and started practicing. They would play their 1st show at 8 Thayer St. as the Guttersnipes with Spearhead Go! It was a great 1st show, but it was the one and only time they would play as the Guttersnipes. Pete suggested the Dogmatics and everyone agreed. The Dogmatics played their 1st show @ Cantones in 1981, they were honored to open on a Tuesday night for no money. They continued to play throughout Boston for the next year with drummer Dan Shannon who would leave the band for college. Longtime friend T.K suggested that we enlist Tom Long, the 18 year old drumming prodigy out of Squantum Ma., and so it was.
The Dogmatics would eventually end up playing every shitty little club and backyard party in most of the United States. This did not deter them. In 1984 the Dogmatics would release their 1st and only single to date on their own label "Cat records".
Gimme the Shakes on the A-side and the Eddie Cochran classic "20 Flite rock" on the B-side. In 1985 the Dogmatics signed with Homestead Records and released their 1st album "Thayer Street". "Everybody Does It" was hatched in June of 1986. "Teenager on drugs" was released on the "Mr. Beautiful" compilation. "Teenage girls" on the "Rock turns to Stone" complation.
The Paul O'Halloran penned classic "It sure don't feel like Xmas time" was featured on the "Midnite Xmas Mess" compilation. In 1998 Shredder/Vagrant would release the Dogmatics 2 lps along with some previously unreleased tracks. The Dogmatics songs have been recorded by Boston's own Mighty Mighty Bosstones, New Orleans prankster's Dash Rip Rock, The Pussy Willows, Heap and Swedish garagepunk kings "The Locomotions". On October 23rd, 1986 Paul O'Halloran died in a tragic motorcycle accident. The Dogmatics have done numerous reunions since 1986 with brothers Johnny and Jimmy O'Halloran sharing the bass duties. Paul O'Halloran is loved and missed to this day.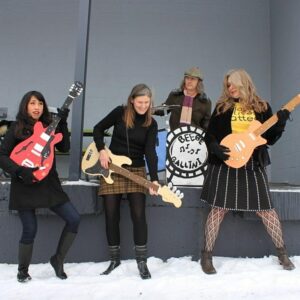 Makers of live garage rock, girl group, musical goodness. Rocking female vocals, good time beats and howling guitar leads come together to rock the party and get the good times rolling.
Beebe Gallini was founded in 2015 by a group of experienced musicians ready to have some fun with classic garage stylings, danceable beats and modern vocals. After some lineup changes in 2019, Beebe Gallini came roaring back with a solid group of musicians who love playing together and getting the party going.
Based out of the Twin Cities of St. Paul and Minneapolis, Beebe Gallini is creating, playing, ranting and rolling our way through 2020 with new stuff to keep you going.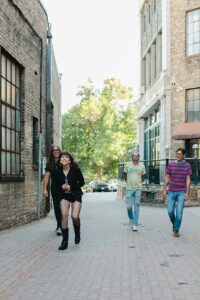 New Tricks is a long awaited collection of songs written and performed by Cindy Lawson, who has the distinction of being both an important part of Minnesota music history and completely up to date as gifted vocalist and talented songwriter absent from the scene far too long.
Her performance bona fides have been hard earned dating back to the early eighties in jazz and r & b bands knocking out four sets a night in hotel lounges and cocktail bars, tirelessly honing her vocal skills with jobbing professional musicians infusing all of the emotion she could in sometimes indifferent material, designed to be aural wallpaper to augment the conversation of passive audiences. In 1984, inspired by the exploding Minneapolis Music Scene, Lawson exited the steady paychecks and increasingly stifling covers treadmill and got her first guitar.
Her first, the all-female band The Clams, began as a more pop-centric combo with loads of catchy hooks and Lawson's trained, soothing vocals to highlight them but after a year of constant gigging and evolving, as someone in the band might have asked, "Who put their Rolling Stones in our Bangles?" The band morphed into one of the legendary, hard rocking and "go to" party bands in the Midwest, holding their own and owning audiences in clubs, colleges and even a state prison, with Lawson's harder edge vocals following suit. Her songwriting evolved as well, exposing a knack for striking three chord rock songs, they rang out with power chords and bluesy confessions chased with sly grins that bounced off club walls like they'd been trapped inside her for years.
After the Clams went their separate ways at the tail end of the 80s, the big time rang Lawson up from the East Coast. High profile names in the Music Industry, New York City, national exposure, the sky was the limit, but all their glitter? Fool's Gold. Having dealt firsthand not with the glow of musical fortune but with what the spotlight hides, she returned home to Minnesota.
Her post-Clams band Whoops Kitty, while not capturing the following of her earlier band, found her more versatile and assured as a strong songwriter and vocally powerful than ever from the ethereal "Stormchaser" to the acid tongued "Boys Will Be Boys (Okinawa)" and the delicious fan girl anthem "Jonathan Richman", Lawson was still in ascent as an artist. As with many artists, after a decade of trying, she did not yet know what she saw as "the writing on the wall," was just a couplet for another song that needed to gestate for a decade or two.
Essentially retired, working and raising a family kept Lawson mostly away from the Four Horsewomen, "Pen, Guitar, Microphone, Audience," for the better part of two decades save the occasional sitting in with a local band and a sold-out Clams Reunion Show. She would gradually resurface, fronting tribute bands, being a sought after guest vocalist and landing a steady gig backing local legend Curtiss A at his famous annual John Lennon Tribute Concerts.
With more to say musically than ever and the joy of performing having returned it was time to let the Horsewomen ride again, in a slightly different order with Pen in the lead followed by Guitar, Microphone and with a new band ready to go, and Audience on the horizon. Like a logline from a 70s action sequel, "She's back, and this time it's personal."
Her new collection (with more to come) is more reflective, poetic, melodic and pissed off than ever, in the best way possible. The voice never left her and she's raising it the skill she honed those years in the lounges, the swagger she discovered those years in The Clams, the pain and joy she experienced years after and the wisdom to know whatever the subject, the experience, the reflection, her aim is to target compassion versus indifference, empathy versus cruelty and love versus it's cold absence, but being an ever accomplished Songwriter, never Verse Versus Chorus.
Whatever love, life, or the world throw at Cindy Lawson, it isn't writing on the wall, but a couplet for her next song. Because, what are slings and arrows, to someone with so many words and music in her quiver? Cindy Lawson is up to New Tricks.