7PM Doors ✖ Hall ✖ $12 ADV / $15 DOS ✖ 18+

Growing up in small-town Saint Joseph, Mo., brothers Dee, Isaiah and Solomon Radke enrolled in rock 'n' roll high school as their ticket out of Nowheresville. The brothers played their first show opening for Fishbone in
2011 and haven't looked back since. In 2013, the Cat & Mouse and Devil Fruit EPs took Radkey from sweaty backroom punk gigs to storming festivals in the UK and U.S. Radkey then enlisted Arctic Monkeys producer/mixer,
Ross Orton, to produce their debut record, Delicious Rock Noise. The result was an across-the-board detonation of several shades of rock, punk, and wild abandon – and riffs, riffs, riffs. 2019 brought the release of No Strange Cats, produced with Bill Stevenson (Descendents) at The Blasting Room where Radkey's sound continued to expand and mature, reflected in the sleek guitar and growing bass. The 2020 self-release of Radkey's third album, GREEN ROOM on Little Man Records has been described as "A rock album for the 21st Century" (Atwood Magazine) made up of thick, slick rock and roll sounds built on power chords and hypnotic vocal melodies.
Radkey is charging into 2022 with this new single release, Games (Tonight) and another full album on the horizon. They continue to tour nationally and internationally supporting bands such as Foo Fighters, Jack White, Rise Against, The Damned, WIZO, Descendents, Local H, and most recently, The Offspring.
Radkey is a testament to the future of music, and this band is primed for rock and roll glory.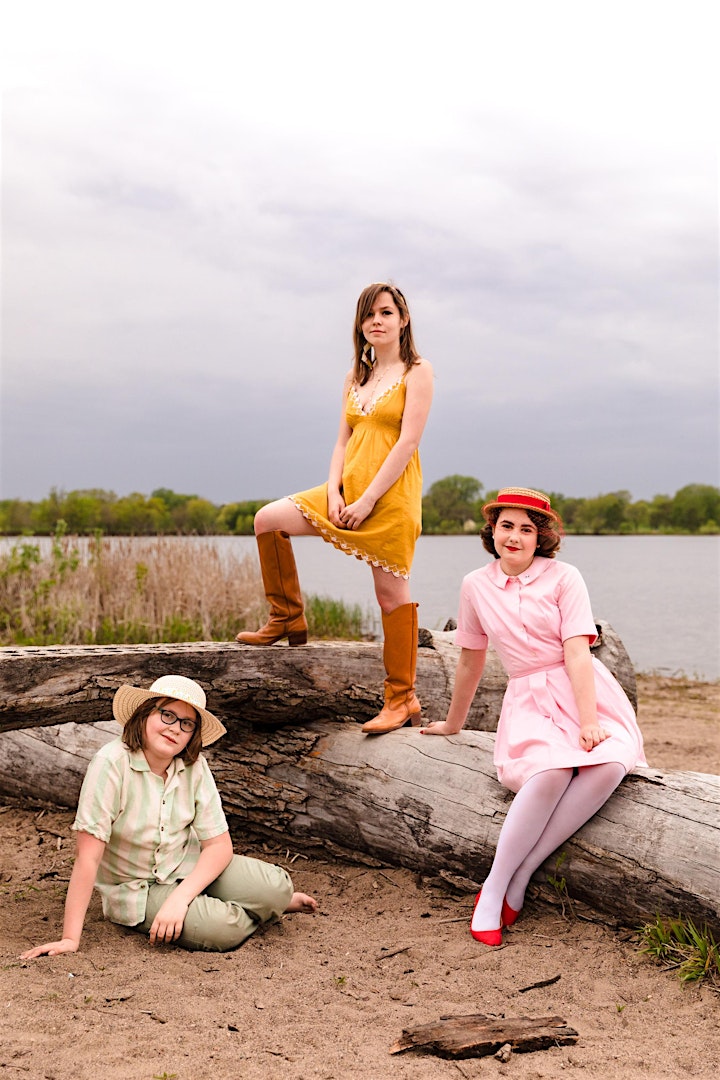 Loki's Folly is an indie-punk trio comprised of two young sisters and their kid brother from South Minneapolis who like to play loud music that makes them happy. For a three-piece outfit, they make a very big sound that is all their own. When Loki's Folly play, they bring you into their world. It is a universe where influences like Sleater Kinney meet the tradition of Swedish Kulning in the best possible way.
Annie (age 21) plays guitar and sings. Nissa (age 16) plays the drum set and sings. Oskar (age 11) plays the bass. Each brings their unique personality to the music, and their sound is gelled by the blend of their sibling voices singing together. The band initially formed out of the girls taking lessons separately at Twin Town Guitars. They began having their lessons together and after a handful of sessions Loki's Folly was born! It wasn't long before people outside of the practice space started taking notice.
Their energetic and passionate live shows have been garnering a devoted fan base from long-time Minnesota musicians. Soul Asylum, Run Westy Run, Haley, The Melismatics, Ryan and Pony, and Porcupine have all put them on local shows over the past two years. Dave Pirner (Soul Asylum) even appears as a guest guitarist on their single "Appease The Girl." They were also included in First Avenue's Best New Bands showcase and have gone on to do a national tour with legendary band Shellac. Loki's Folly Plans to release their debut album "Sisu" in the very near future.
Ryan Smith might be best known as singer/songwriter/instrumentalist for The Melismatics, Ryan And Pony, and the lead guitarist of Soul Asylum.
He's been grounded in the incredible Minneapolis music scene since he first picked up a guitar.  Over the years he's also lent his skills as a sideman to such artists as Grant Hart, Phil Solem, The Rembrandts, Mark Mallman, and many others.
But before all of that,  Ryan was making solo recordings in which he played all instruments as a teenager and releasing albums on his own Hygh Tensions Records.
In 2019, Soul Asylum was on the "Dead Letter Tour" setting up the 2020 release of their album "Hurry Up And Wait" — that is, until the pandemic hit.  Ryan suddenly found himself with a small window of unexpected free time.
He started feverishly recording brand-new song ideas with no specific plan of where these songs would end up.  It became clear that the tracks Ryan was building in his home studio playing all instruments and singing all vocals were turning into a new album with a direction all its own.  The first singles, "I'm Slipping" and "Lost Time" recently dropped worldwide on Hygh Tension Records.
Blood, guts, passion, rock and roll, psych rock, and an experimental spirit are what you will find on the forthcoming record.  Look for more singles and a full-length LP coming soon!