7PM Doors ✖ Hall ✖ $10 ✖ 18+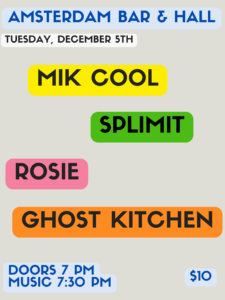 Rosie – 
Based out of Minneapolis, Minnesota, rosie is the epitome of a songwriting sensation. Citing Dominic Fike, Dijon, and Remi Wolf as stylistic influences, rosie's sound primarily draws inspiration from pop, but also takes shades of jazz, funk and indie for a genre-fluid palette that will get your body moving.
Ghost Kitchen are a four-piece indie-rock band from Minneapolis, MN, formed in 2022 by Katie Drahos (Butter Boys, High Tiny Hairs) and Dallas Kelliher (Jung Yeller) who bonded over their love of 2000s-era bands like Death Cab for Cutie, the Shins, and the Killers. Known for their dreamy guitar tones and evocative-yet-conversational lyrics and performances full of fun stage banter between two talented singer-songwriters, Ghost Kitchen are already becoming a new favorite in the Minneapolis music scene.
Mik Cool – What started as the solo project of frontwoman Mikayla Coulombe has since evolved into a seven-piece indie pop/rock band whose energetic and witty live sets are currently entertaining people's faces off. After recording her debut album, I Wanna Be Cool, primarily in her tiny Minneapolis closet, Mik's original tunes hit a bit harder with the full band by her side, and her songwriting is naturally transitioning to a more rock/punk sound that meshes with the musical expertise of her bandmates. At a live show one can expect to hear multiple new songs built into the set which confirm that Mik Cool is only getting more exciting and that their first album together as a full band is bound to provide some certified bangers while still leaving you with all the feels.
Splimit – Originating from Minneapolis Minnesota is a high contrast rock band known for their explosive sound, powerful harmonies, and genre bending mentality. With a dynamic fusion of rock, punk, funk, punk, blues, and ska, they've captured the ears of music enthusiasts all through the Midwest. Their 2013 debut marked the beginning of a most excellent journey, driving forward with songs like "Dosie Dode" , "IDK" , and "Thundermuffin". The band's performances have allowed them to grace the stage with the likes of "The Misfits", "Thumpasaurus", "That One Guy", and "Mom & Dod" (members of Dopapod). Currently, Splimit continues to grow by releasing their second LP "Softcore Porch" in the Spring of 2024.