7PM Doors ✖ Hall ✖ $10 ADV/ $15 DOS ✖ 21+

LASKA is fronted by three sisters who write beautifully self-aware and earnest songs. Hannah, Mookie, and Bex Morton are the foundation of LASKA. The melancholy, harmony-driven sound draws from the midwestern heartland just as much as the LA-coast and continues to evolve as their landscape changes. All three sisters contribute to the writing and have a way of leaving you at the beck and call of a song's emotional territory. Haunting, reflective, and lovely.
Since their formation in 2016, the band has grown to be a six-piece act. Their live sound blends rugged guitar,
synthesizers, and pedal affected violins, bringing listeners from song-in-your-bedroom intimacy to vast moments in sonic canyons. The Mortons play alongside Evan Middlesworth (producer/guitar), Robbie Weisshaar (bass) and Sam Enochs (drums).
Their newest EP, entitled "Fader," is a fresh sound for LASKA. A lofi-drum-machine escapes to summer crickets and AM radio nylon-string guitar. The low-energy, yet pop oriented productions feels like a vessel for the words to be heard. "Fader" comes after the beginning of the bands' recent transition to Los Angeles.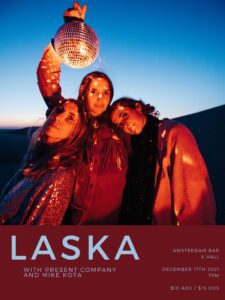 Proof of vaccination or negative COVID-19 test within 72 hours required.