7:00PM Doors ✖ Hall ✖ $10.00 ADV/$15.00 DOS ✖ 18+

PLEASE NOTE: A FULL SET OF COVID VACCINATIONS OR A NEGATIVE PCR TEST WITHIN 72 HOURS OF THE EVENT IS REQUIRED TO ATTEND THIS SHOW.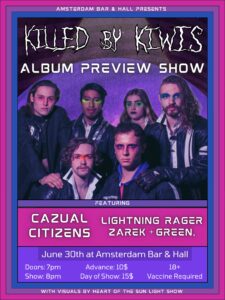 Killed by Kiwis is a psychedelic hard rock band from Minneapolis. By utilizing the beautiful voice of their singer alongside a hard hitting rhythm section and dazzling synths, Killed by Kiwis forges a sound that is uniquely their own.
The Team:
• Annie Thoma – Vocals
• Eli Haugland – Synths
• Frankie Carlson – Guitar
• Griffin Baumann – Guitar
• Quinn Siebers – Drums
• Simon Midtbo – Bass