7PM Doors ✖ Hall ✖ GA $20 adv/$25 door/VIP $60 table for 2/$120 table for 4 ✖ 21+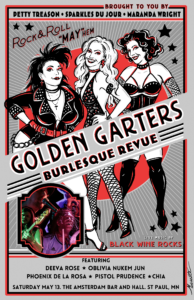 Crank it to 11! Golden Garters Burlesque Revue is back, and this time…our mission is MAYhem!
Join us for a bad ass evening of live band burlesque collaboration with the highly revered local rock, rap, punk & blues band, Black Wine Rocks. This is punk getting stripped down – literally!
Featuring live music by Black Wine Rocks
Starring burlesque luminaries:
Deeva Rose
Oblivia Nukem Jun
Phoenix De La Rosa
Pistol Prudence
Chia
Sparkles Du Jour
Petty Treason
Maranda Wright
Golden Garters Burlesque Revue is ready to rock your world!
Facebook: Capital City Cabaret
Instagram: @capitalcitycabaretmn
Artwork: @musettemischief / @amuseing.design