6:00PM Doors ✖ Hall ✖ $10.00 ADV / $12.00 DOS ✖ 18+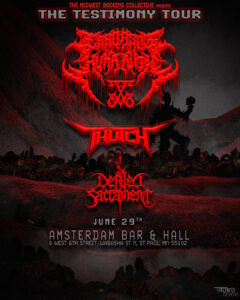 Errors of Humanity is a Green Bay, Wisconsin based deathcore band that consists of vocalist Kieran Thomas, drummer Dane Slinger and guitarist Tyler Wegner. EOH released their first EP, "The Human Solecism", in 2021. Since then, the group has been working on their first full length album. Honor Killing is the first of many new songs to be released mid 2023 with each song having its own unique blend of deathcore, slam and death metal.
Thutch is a musical experience conceived by The Conduits: Ded Ed, Voiree, Vector, Thangus, Skittles, and Jackie the Jackal. Using an amalgamation of heavy metal, and other stimulating expressions, The Conduits are set out to entice the senses of mortals and immortal alike. With origins stretching across the Omniverse, Thutch's current base of operations resides in Chicago, IL. Although The Conduits' influence on mortals using Thutch, is speculated to go as far back as the early B.C's. Thutch's official unveiling was on June 19th, 2021 with the single "Fat From Fed Up". Being the first installment of the "Wake" saga. Heavy on the trails of the release, Thutch has been hard at work playing shows and building bonds. The "Wake" ep will be accompanied with its conjoined twin "Caution". And these labors of love will be ingested by the world late 2023.