7:00PM Music  ✖ Bar ✖ Free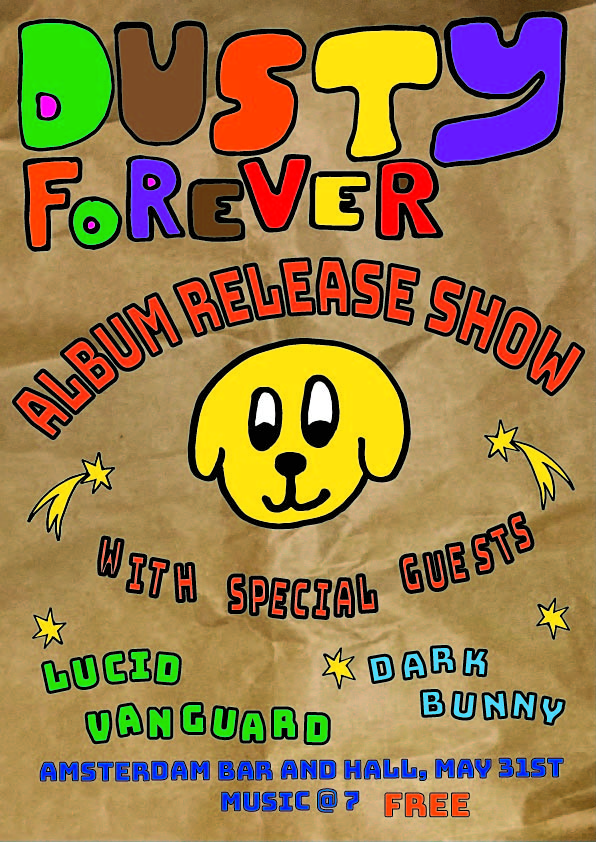 Dusty Forever
Dusty Forever is Desmond Lawrence's alternative folk-rock project. His linear song structures guide you through vivid yet dreamlike stories, such as a dog's experience with space exploration or a daydreaming kid stuck out in left field. Hazy yet firm vocals paired with an emphasis on ambience and textural instrumentals, Dusty Forever's music is a warm invitation to cozy up and immerse yourself in the sound. Dusty Forever's debut album "Sing !" is out May 16th.
Lucid VanGuard
Neo-nostalgic movements and melodies by singer/songwriter/multi-instrumentalist Karl Remus – often invoking a sense of upbeat melancholy. Currently based in New Orleans, LA. New full length album "My Autumn Blue" out now!
Dark Bunny
Dark Bunny is the dream pop/shoegaze inspired project of Minneapolis based singer songwriter, Emily Youel. Dark Bunny started as a bedroom pop style solo project in early 2020 but has since blossomed into a four piece band: Emily Youel (vocals/guitar/synth), Christian Wheeler (lead guitar), Emma Withers (drums) and Karl Schutzle (bass). On February 14th, 2022, the self-titled debut album "Dark Bunny" was released, featuring previously released singles, "Overcast", "Insomnia", and "Blur".