7:30PM Doors ✖ Bar ✖ Free ✖
Distant Edge is a five-piece alternative pop/rock band hailing from Minneapolis, Minnesota. The band is comprised of Nate Erickson (Guitar), Nolan Litschewski (Vocals), Jahmal Fisher (Drums), Sam Swanson (Keys/Synth), and Aaron Eiden (Bass). Formed in 2015, Distant Edge has been rising through the ranks of the Twin Cities local music scene ever since, releasing a self-titled debut EP in 2018 and subsequently a number of successful singles. The band's sound has been described as "a bevy of synth and alt-rock influences that sets the band off into the stratosphere and leaves an indelible impression on listeners" by online blog Music Box Pete. The first single "Better Words" off of their debut album "Redlight" has amassed over 50,000 streams on Spotify alone, with subsequent singles "New Traits" and "With You" generating success as well.
The debut album "Redlight" was in the works for over two years as a self-contained project, completely mixed, mastered, and produced by Jack Vondrachek of Tangerine Studios, who worked on Hippo Campus' breakout EP "Bashful Creatures", as well as recorded the likes of Lil Peep, Charlie XCX, and Nile Rodgers. The music relies on blaring synth leads and soaring vocals, complete with motoring basslines and a relentless narrative drive. The album tells the story of greed, glorification, and learning to recognize what's truly important in a self-interested world.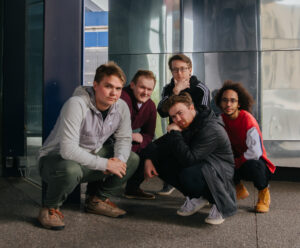 Living in Minneapolis MN, Bobby Rethwish creates music that is defined by dichotomy; beautiful but aggressive, emotional but experimental, catchy but unpredictable. Pairing passionate vocals with otherworldly textures, Rethwish's music is born out of a love for pop songwriting as well as a desire to turn modern production on its head. On October 22 2021, Rethwish released his second LP "PERMANENT RAINBOWS", an abstract pop album made in the two months leading up to a breakup and the two months following.
Over the summer of 2021, Rethwish created an original score for Minneapolis dance company Crash Dance Productions. The show has seen two runs at the Southern Theater, the music for which has been released on streaming services as "CDP2021". Rethwish also produced LA-based pop artist McCall's EP, "On Self-Loathing", as well as her upcoming debut album.