6:30PM Doors ✖ Hall ✖ $10 ADV / $12 DOS ✖ 18+

Effective immediately, this event will require either proof of a full course of Covid-19 vaccination, or proof of a negative Covid-19 test taken in the prior 72-hours. All proof of vaccination/negative tests MUST match attendee's IDs at the box office. Rapid tests/at home tests will not be accepted at the box office.

MASKS REQUIRED DUE TO EXECUTIVE ORDER (2022-2) ISSUED 1/5/2022
Common Choir is an American Metalcore band from Minneapolis, Minnesota focused on creating intense, energetic music that people from all walks of life can connect with. The name "Common Choir" is derived from the phrase "preaching to the choir" and speaks to the relatability of the messages and emotions poured into our music
inflict is a Minnesota band with hard hitting riffs and songs filled with emotions.
The word Halcyon means calm or peaceful. We believe there is a sense of peace or calmness to be found wherever you might end up, whether you intended on being there or not. We write music to inspire. We have all found ourselves in dark places, feeling hopeless and alone. We have given up too soon. We have let go of hope. Thankfully we found that hope again. We dusted ourselves off and made a decision to fight back against the things that put us there. These songs are our stories.
VVakefield is a melodic hardcore band from Minneapolis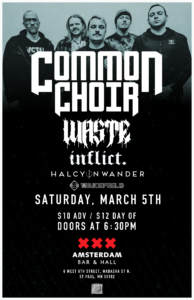 Proof of vaccination /negative test within 72 hours required.