7:00PM Doors ✖ Hall ✖ $22.00 ADV / $25.00 DOS ✖ 18+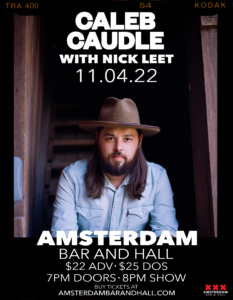 Forsythia, the latest studio LP offering from Caleb Caudle out 10/7/22 via Soundly Music, is a portrait of his truest self, of the artist at his most solitary and reflective. Thematically, it meets anticipation for the unknown future with nostalgia for the past, and reconciles both with meditation in the present. The album was recorded at the legendary Cash Cabin during the pandemic, and inspired by the solitude and symbols Caudle found in nature during that time. It's produced by John Carter Cash, and features veteran session players Jerry Douglas, Sam Bush, Dennis Crouch and Fred Eltringham, and the vocal talents of Carlene Carter, Elizabeth Cook and Sarah Peasall McGuffey. Simplistic arrangements– in which Caudle was the only guitarist– built a framework for space that is filled intentionally so that the songs themselves can be heard and appreciated without an overcrowding of instrumentation. On this record, outsider influences come into play nearly as much as his foundational knowledge of traditional Appalachian folk and other music history. This collection of 10 songs serves as a manifesto of Caudle's beliefs and simplest desires. Forsythia sees Caudle as a master of his craft as a songwriter and musician.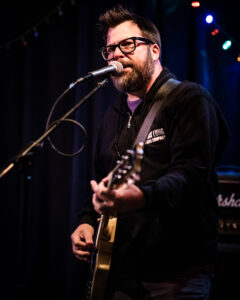 Nick Leet is the frontman and singer/songwriter of Minneapolis based Rock n' Roll Band, High on Stress. Nick and the band have released 5 studio albums including their critically acclaimed new album "Hold Me In". HoS's collection of songs could easily be subtitled, "Nick Leet's Huge Heart" because that's what's been at the center of the foursome throughout the band's entire run. All those chunky guitar riffs, pedal steel nirvana moments, two-part harmonies and snare drum synergy push Leet's plaintive cry and yearning songwriter soul to beautiful heights that shouldn't be missed or forgotten by lovers of heartfelt classic alt-country. Supporters of the band include Peter Jesperson, the Manager of the Replacements, who deemed their latest "exceptional work". Minneapolis commercial radio station "Cities 97" proclaimed "This terrific band recalls a different era of Minnesota music". Nick has shared the stage with Jackson Browne, Tommy Stinson & Slim Dunlap of the Replacements, Golden Smog, Dave Pirner (Soul Asylum), Andrew Hyra (Billy Pilgrim), Craig Finn (the Hold Steady), Matthew Ryan, Jesse Malin, the Gear Daddies and more. Catch one of Nick's solo acoustic shows. They pack a lot of heart, a lot of bite and a lot of humor.