8:00PM Doors ✖ Hall ✖ $10.00 ADV / $12.00 DOS ✖ 21+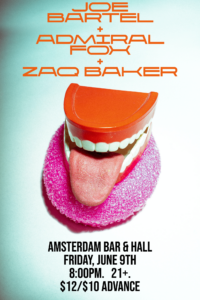 Admiral Fox's sounds range from introspective indie folk to synth-flavored garage rock. Following the release of their EP Nowhere is Safe this March, their music has been slanting away from the acoustic singer-songwriter crooners of their debut, and heading into louder, more electric, and more socially conscious territory. Though they'll always find time for a sad-boy ballad or three.
Joe Bartel is an internationally beloved punk musician and songwriter. With swift and direct lyricism that can't be boxed neatly by genre, Joe performs relentlessly and always delivers a powerful musical experience. Their new EP 'POWERPLANT' was released in January.
Hailing from Minneapolis and supported by a pop/rock pit orchestra, Zaq Baker dares to ask questions like, "What if Billy Joel was younger and dumber?" "What if rock music was uncool?" and, "What if we brought a pop-punk ethic to musical theatre?" His material was once described by a graphic designer as "really whiny" and by a Twin Cities local as "like the male Taylor Swift." With grand piano and candy melodies at the center, showtunes, emo revival, and forthright lyrics form the backdrop for a unique, relatable collection.