9PM ✖ Bar ✖ Free ✖ 21+ Rock/Folk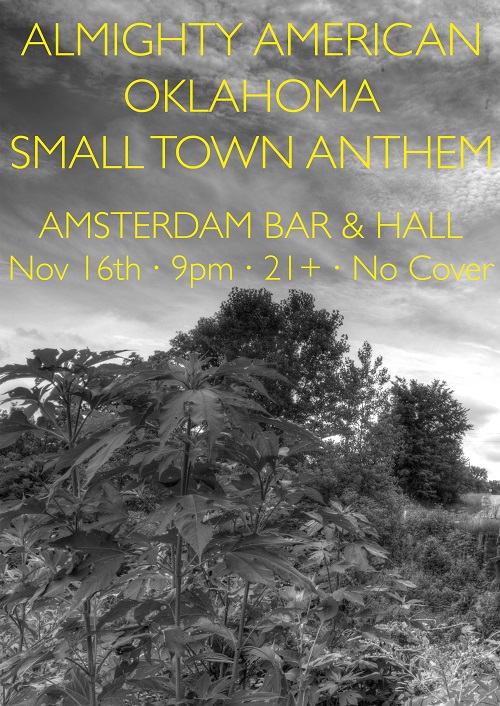 Small Town Anthem:
Small Town Anthem was founded by twin brothers, Sean and Shannon Heier in 2008. Their dream was to bring their unique version of Roots Rock from the town of Redwood Falls, MN to the Twin Cities. Sean (bass, vocals) and Shannon (guitar, vocals) were joined in 2010 by a rural Kansas native, Kris Ransom. With the addition of his vocal and multi-instrumental talents, the band wrote and recorded their debut album, A Key to the Brain, released in June 2011.
Their hard work paid off as singles "Katie" and "The Fires Burn" were played on radio stations in Minnesota, Kansas, and South Dakota including Cities 97 and the popular internet radio show, Rock Capital Radio. Small Town Anthem has also made a live television appearance performing "Katie" for a Sioux Falls, SD NBC affiliate.
Adding drummer Adam Schaberg, the band recorded their second release titled "Long Time Coming" in May of 2015. The EP gained recognition and was mentioned on 89.3 The Current Local Show and had a write up in Rift Magazine. The EP got radio airplay with songs "I Know" "After All" and "Long Time Coming" on several Midwest radio stations
In early 2016 vocalist Jenna Warner was added to the band to add to the four part harmonies and distinct sound of STA.
https://smalltownanthem.bandcamp.com/
Oklahoma:
With a distinct voice and clear direction, Oklahoma borrow elements from Indie Rock, Pop, & Alt Country to share their perspective on life's reoccurring themes. Oklahoma's song writing confronts & indulges neurosis, while interweaving voices underline each song's sentiments. Their debut LP, which carries a throughline of longing for youthful longing, will be released in early 2017.
http://oklahomampls.com/
Almighty American:
Almighty American is the moniker of Minneapolis singer-songwriter, Michael Gay. He writes fundamentally simple songs with carefully crafted lyrics, paired with a classic sensibility and feel that will stick with you well after the fact. The songs consider topics like love, making mistakes, and learning how to be human. Other major influences include old books, cowboys, going fast and being free.
http://www.almightyamericanmusic.com/